The Great Cow Race: A Graphic Novel (BONE #2): The Great Cow Race (Hardcover)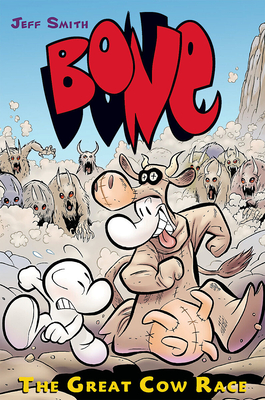 Other Books in Series
This is book number 2 in the Bone series.
Description
---
Jeff Smith's
New York Times
and
USA Today
bestselling, award-winning BONE books are one of the most popular graphic novel series of all time!
Fone Bone and his cousins plan to return home after visiting the village of Barrelhaven with Thorn and Gran'ma Ben. But Phoney Bone risks everything on one last get-rich-quick scheme for the town's annual Great Cow Race. As usual, Phoney's plans go disastrously awry, and Boneville seems farther away than ever.
Meanwhile, ominous signs indicate that a war is brewing, and Fone Bone finds himself helping his friends defend their idyllic valley from a formidable enemy.
About the Author
---
Jeff Smith is the creator of the award-winning, New York Times bestselling BONE series. He was born and raised in the American Midwest and learned about cartooning from comic strips, comic books, and TV animation. Visit him online at boneville.com.
Praise For…
---
Praise for the BONE series:
New York Times Bestseller
USA Today Bestseller
TIME magazine Top Ten Graphic Novel
★ "This is first-class kid lit: exciting, funny, scary, and resonant enough that it will stick with readers for a long time." -- Publishers Weekly, starred review
"A true accomplishment. Not only is it a terrific graphic-novel series, but it's a superb example of storytelling." -- School Library Journal
"BONE is storytelling at its best, full of endearing, flawed characters whose adventures run the gamut from hilarious whimsy to thrilling drama." -- Entertainment Weekly
"Spectacular." -- SPIN magazine
"Jeff Smith can pace a joke better than almost anyone in comics." -- Neil Gaiman, winner of the Newbery Medal for The Graveyard Book
SLJGr 4 Up–The strange-looking Bone cousins visit Barrelhaven with their friends Thorn and Gran'ma Ben. Phoney Bone, who usually causes trouble, does so again in these six chapters. He tries to swindle the villagers by fixing the annual Great Cow Race. While the race is underway, Fone Bone, who has wandered off to the woods, is chased by two giant rat creatures that have been after the Bones since their arrival in the valley, but they don't know why. Gran'ma Ben knows something, though, and makes ominous references to a past war with the rat creatures and a treaty that is being tested. In addition to the comic elements, there are the usual fantasy elements of the fight between good and evil. Exciting and fun, the full-color art moves the story along at a rapid pace. The vocabulary is not difficult and the illustrations are clear. On one level, the book will appeal to fourth or fifth graders. However, it has a darker side that will appeal to teens. The writing flows gracefully, especially for a graphic novel. This book will be well received in both public and school libraries.–Ronnie Gordon, Brooklyn Public Library, NY