How to Break Up with Your Phone: The 30-Day Plan to Take Back Your Life (Paperback)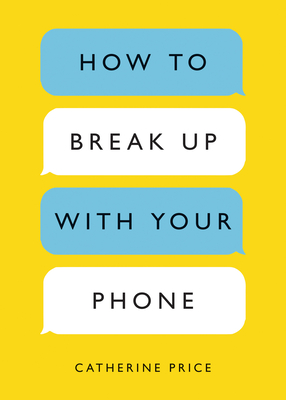 $12.99

Usually Ships in 1-5 Days
Description
---
Packed with tested strategies and practical tips, this 30-day plan is the essential, life-changing guide to setting boundaries with your smartphone.

"The Marie Kondo of brains . . . for the first time in a long time, I'm starting to feel like a human again."—Kevin Roose, The New York Times

Is your phone the first thing you reach for in the morning and the last thing you touch before bed? Do you frequently pick it up "just to check," only to look up forty-five minutes later wondering where the time has gone? Do you say you want to spend less time on your phone—but have no idea how to do so without giving it up completely? If so, this book is your solution. 

Award-winning journalist Catherine Price presents a practical, hands-on plan to break up—and then make up—with your phone. The goal? A long-term relationship that actually feels good.

You'll discover how phones and apps are designed to be addictive, and learn how the time we spend on them damages our abilities to focus, think deeply, and form new memories. You'll then make customized changes to your settings, apps, environment, and mindset that will ultimately enable you to take back control of your life.
About the Author
---
Catherine Price is an author and science journalist whose articles and essays have appeared in The Best American Science Writing, the New York Times, Popular Science, O, The Oprah Magazine, the Los Angeles Times, the San Francisco Chronicle, Washington Post Magazine, Slate, Parade, Salon, Men's Journal, Self, Mother Jones, and Health magazine, among other publications. Her previous books include Vitamania: How Vitamins Revolutionized the Way We Think About Food and 101 Places Not to See Before You Die. 

A graduate of Yale and UC Berkeley's Graduate School of Journalism, she's also a recipient of a Middlebury Fellowship in Environmental Reporting, a two-time Société de Chimie Industrielle fellow at the Chemical Heritage Foundation, an ASME nominee, a 2013 resident at the Mesa Refuge, a fellow in both the Food and Medical Evidence Boot Camps at the Knight Science Journalism Program at MIT, and winner of the Gobind Behari Lal prize for science writing. You can learn more about her and her work at catherine-price.com.
Praise For…
---
"The Marie Kondo of brains . . . for the first time in a long time, I'm starting to feel like a human again."—Kevin Roose, The New York Times

"A slim, insight-packed volume that's both a primer on the toll smartphone overuse can take on our mental and physical health, and a practical manual for a 30-day reset designed to put you on a path to moderation, this is a book whose message couldn't feel more timely, or more urgent. (No, really: after finishing the whole thing in one horrified sitting, I immediately pre-ordered 3 more copies for friends and family.)"—Sarah Karnasiewicz, Health

"Price dissects the way her phone has impacted her personal and professional lives, and gives practical advice on how to forge a healthier relationship with technology—without the fear mongering."—Refinery29

"The most important book I've read in years. Life-changing."—Sali Hughes, The Pool

"Could be one of the most important books to be published in recent times."—9Honey

"A comprehensive, step-by-step solution to spending less time with your phone and more time doing the things you love."—Booklist

"To design a more joyful life includes reframing some of our old perceptions and habits. Almost no single thing in modern life deserves a reframe more than the smartphone. In How To Break Up with Your Phone, Price offers an accessible and clever way to accomplish that reframe and discover more time and energy for a better life." —Dave Evans, coauthor of Designing Your Life and adjunct lecturer in the Product Design Program, Stanford University

"Price's book is an invaluable guide of how--in the author's own words—to turn your phone back into a tool, not a temptation. In these dopamine-drenched days of the smartphone era, hours can be lost to the mindless scroll. Price's easily digestible tome is practical, not preachy, and a must-have for even the worst phubber." —Pandora Sykes, journalist and former Fashion Features Editor at The Sunday Times Style

"Fascinating, entertaining and extremely timely. Your phone is an abusive partner—get rid now."—Will Storr, author of Selfie