Fight No More: Stories (Hardcover)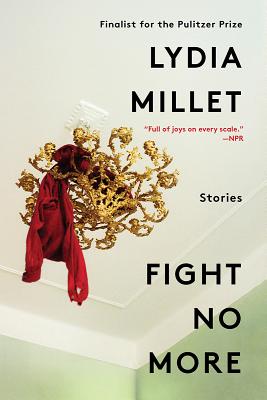 Description
---
Twelve interlocking stories set in Los Angeles describe a broken family through the homes they inhabit.
In her first story collection since Love in Infant Monkeys, which became a Pulitzer Prize finalist, Lydia Millet explores what it means to be home. Nina, a lonely real-estate broker estranged from her only relative, is at the center of a web of stories connecting fractured communities and families. She moves through the houses of L.A.'s wealthy elite and finds men and women both crass and tender, vicious and desperate. With wit and intellect, Millet offers profound insight into human behavior from the ordinary to the bizarre: strong-minded girls are beset by the helpless, myopic executives are tormented by their employees, and beastly men do beastly things.
Fresh off the critical triumph of Sweet Lamb of Heaven (longlisted for the National Book Award), Millet is pioneering a new kind of satire—compassionate toward its victims and hilariously brutal in its depiction of modern American life.
About the Author
---
Lydia Millet has won awards from PEN Center USA and the American Academy of Arts and Letters, and her books have been finalists for the Pulitzer Prize, the National Book Award, the National Book Critics Circle Award, and the Los Angeles Times Book Prize. She lives outside Tucson, Arizona.
Praise For…
---
[A] shimmering and brilliantly engaged collection.
— Marisa Silver - New York Times Book Review

Millet's great virtue is her negative capability. She inhabits the thoughts of the young and the elderly, of the fortunate and the bereaved, and of deviants and crackpots with equal candor and conversational ease.
— Wall Street Journal

Superb…The collection is linked through characters that reappear (as relatives, friends, lovers) as the book progresses, showing the ways in which we are living in simultaneous dimensions of pain, betrayal and forgetting. Yet as bleak as their situations may get, there remains a thread of dark humor.
— Los Angeles Times

[Fight No More] is a novel about death disguised as a story collection about real estate, and it's alternately wrenching and hilarious, peaceful and joyful, so tender you almost can't bear it and so brutal you know that you can't.

— NPR

Irresistible … a sprawling, tender portrait of modern adults quietly trapped by their youthful aspirations.
— Publishers Weekly

Millet so readily shifts point of view—by turns she can be a snotty rich kid, a pedophile, and a lower-class cam girl striving to rise above her station. … A linked-story collection done right, with sensitive and complex characters each looking for a place to call home.
— Kirkus (starred review)

As Millet makes exceptionally potent use of the linked-stories form, her writing is razor-edged, her comedy at once caustic and compassionate, and her insights agile as she contrasts rich and poor, house and home, delusion and love. … [C]onfirms the evolution of this stellar author's vital, caring, and audacious creativity and literary splendor.
— Booklist (starred review)

Hilarious and fantastical…. [T]he most original short story collection I've read in years.
— Michael Silverblatt - Bookworm on KCRW