Fight No More: Stories (Paperback)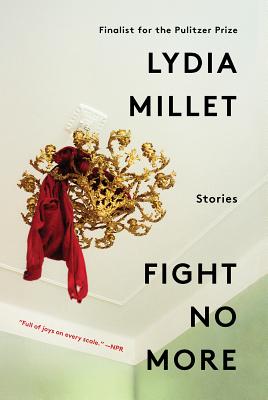 Description
---
New York Times Book Review Editors' Pick

A Library Journal Best Book of 2018



"Full of joys on every scale." —NPR
This wonderfully original collection proves once again that Pulitzer Prize finalist Lydia Millet is "the American writer with the funniest, wisest grasp on how we fool ourselves" (Chicago Tribune). In Fight No More, Nina, a lonely real-estate broker estranged from her only relative, is at the center of a web of stories connecting a community through the houses they inhabit. With crackling satire and surprising tenderness, Millet introduces an indelible cast of untidy teens, beastly men, and strong-minded women whose stories begin to outline the fate of one particular family being torn apart by forces they recognize but cannot control. Millet's intellect and beautiful prose deliver profound insight into human behavior, from the ordinary to the bizarre, and draws startling contrasts between house and home.
About the Author
---
Lydia Millet has won awards from PEN Center USA and the American Academy of Arts and Letters. Her books have been shortlisted for the Pulitzer Prize and National Book Critics Circle Award and longlisted for the National Book Award. She lives outside Tucson, Arizona.
Praise For…
---
[A] shimmering and brilliantly engaged collection.
— Marisa Silver

[Millet is] one of the funniest writers of American fiction, a rival of George Saunders, Paul Beatty, Nell Zink, and Donald Antrim.… You have the sense that Millet could easily bury us in her smartness but has instead cleaved to the characters she's created and made her humor generously broad. These are accessible fictions.

Millet's great virtue is her negative capability. She inhabits the thoughts of the young and the elderly, of the fortunate and the bereaved, and of deviants and crackpots with equal candor and conversational ease.

Superb.… The collection is linked through characters that reappear (as relatives, friends, lovers) as the book progresses, showing the ways in which we are living in simultaneous dimensions of pain, betrayal and forgetting. Yet as bleak as their situations may get, there remains a thread of dark humor.

The tales' intersections are as intricate as L.A.'s freeways—but, unlike the 405 at rush hour, totally delightful.

Each new story swerves like a breathtaking drive through L.A., logical yet surprising.… Fight No More takes the connected story model to a pure and higher form, creating a satisfying web that expands one character, one ZIP code, one housing situation at a time, to 13 tales that are each distinct and whole but form something daring in their entirety.