Among the Living and the Dead: A Tale of Exile and Homecoming (Paperback)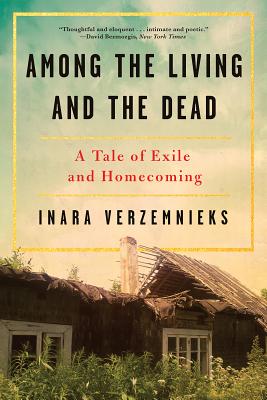 Description
---
A New York Times Book Review Editors' Choice

A BookPage Best Book of the Year



"This exquisitely written book shows how recovery can come generations later through rebuilding connections—to people, the natural world, the past." —Robin Shulman, Washington Post
"It's long been assumed of the region where my grandmother was born…that at some point each year the dead will come home," Inara Verzemnieks writes in this exquisite story of war, exile, and reconnection. Her grandmother's stories recalled one true home: the family farm left behind in Latvia, where, during WWII, her grandmother Livija and her grandmother's sister, Ausma, were separated. They would not see each other again for more than 50 years. Raised by her grandparents in Washington State, Inara grew up among expatriates, scattering smuggled Latvian sand over the coffins of the dead, singing folk songs about a land she had never visited.
When Inara discovers the scarf Livija wore when she left home, in a box of her grandmother's belongings, this tangible remnant of the past points the way back to the remote village where her family broke apart. There it is said the suspend their exile once a year for a pilgrimage through forests and fields to the homes they left behind. Coming to know Ausma and the trauma of her exile to Siberia under Stalin, Inara pieces together Livija's survival through years as a refugee. Weaving these two parts of the family story together in spellbinding, lyrical prose, she gives us a profound and cathartic account of loss, survival, resilience, and love.
About the Author
---
Inara Verzemnieks teaches creative nonfiction at the University of Iowa. She has won a Pushcart Prize and a Rona Jaffe Writer's Award, and has been a finalist for the Pulitzer Prize in feature writing. She lives in Iowa City, Iowa.
Praise For…
---
Thoughtful and eloquent.…Verzemnieks is solid on her history. Even more, she offers a model for how to navigate it. When she reaches the limit of what she can know, she doesn't confuse it with the limit of what can be known.
— David Bezmozgis - New York Times Book Review

Verzemnieks's account is personal, but by writing about national identity and asylum her book addresses our most urgent political questions. It insists with quiet elegance that, though the past eludes us, we cannot elude our past.
— Sarah Ditum - Guardian

In her elegiac new book, [Verzemnieks] describes how she hoped the faraway travels would restore her grandmother to her 'in the old stories' that still existed there.…Ultimately, what she found was even broader: the meaning of home, the power of stories, and the different ways survivors and their memories move forward.
— Rebekah Denn - Christian Science Monitor

Verzemnieks…is a gracious writer, inviting the readers on her journey into the past.…Armed with her wealth of knowledge in Latvian history and myths, and her masterful and lush observations, Verzemnieks remains an able guide, earning our undivided attention and admiration.
— Angela Ajayi - Minneapolis Star Tribune

[Verzemnieks] writes as if she's recounting a fable, and fills the pages with werewolves and phantom villages and barons and journeys undertaken by simple men and women, in fairytale tones, lush language, the contrast between her prose and the tale it tells devastating in its crushing polarity.
— Kerri Arsenault - Brooklyn Rail

Extraordinarily tender and finely wrought.
— Eliza Griswold, Pulitzer Prize winner and author of Amity and Prosperity

An exquisite book for the ages as it unfolds from its first mysterious sentence into a masterpiece about war, survival, memory, and, most movingly of all, human need.
— David Finkel, Pulitzer Prize winner and author of The Good Soldiers

In this moving, lyrical memoir that draws on vivid personal accounts and extensive research, Inara Verzemnieks does not shirk from confronting the extremities of human behavior; but she also gives us the rich textures of a world in which poetic mythology coexists with sophisticated modernity, the dead mingle with the living, and the hardships of a traumatic past are countered by the strength of memory and of lasting attachments.
— Eva Hoffman, author of Exit into History

The astute reportorial sensitivity of a master Eastern European historian like Timothy Snyder, as filtered through the lyric sensibility of a García Márquez, and suffused with the aching nostalgia of a latter-day Proust.
— Lawrence Weschler, author of And How Are You, Dr. Sacks?

Poetic, melancholy, colored by the dark beauty of the northern landscape Inara Verzemnieks inhabits (much more than merely describes), this memoir of loss and recovery from the tragedies of the twentieth century will linger in your imagination, widen your historical perspective, and make you grateful that language has such power.
— D. J. Waldie, author of Holy Land: A Suburban Memoir