Leaving Glorytown: One Boy's Struggle Under Castro (Hardcover)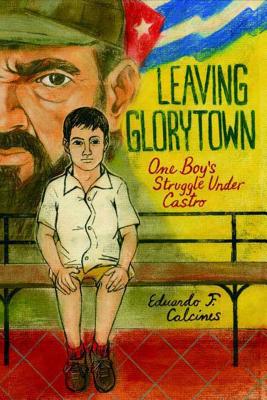 $25.99

Usually Ships in 1-5 Days
Description
---
In this absorbing memoir, by turns humorous and heartbreaking, Eduardo Calcines recounts his boyhood and chronicles the conditions that led him to wish above all else to leave behind his beloved extended family and his home for a chance at a better future.

Eduardo F. Calcines was a child of Fidel Castro's Cuba; he was just three years old when Castro came to power in January 1959. After that, everything changed for his family and his country. When he was ten, his family applied for an exit visa to emigrate to America and he was ridiculed by his schoolmates and even his teachers for being a traitor to his country. But even worse, his father was sent to an agricultural reform camp to do hard labor as punishment for daring to want to leave Cuba. During the years to come, as he grew up in Glorytown, a neighborhood in the city of Cienfuegos, Eduardo hoped with all his might that their exit visa would be granted before he turned fifteen, the age at which he would be drafted into the army.
About the Author
---
Born in October 1955 in Cienfuegos, Cuba, in the barrio traditionally known as Glorytown, the first child of a truck driver and a homemaker, Eduardo Calcines was very young at the time of Fidel Castro's abrupt governmental takeover.  Soon, Communism dug its roots deep into the island nation.  Dissidents' imprisonment and death at the hands of the new totalitarian government became commonplace. Calcines was profoundly scarred by the uncontrollable conditions brought upon him and his entire family, some of whom were dissidents themselves.  From an early age, he rebelled against the oppression and injustice wielded by Castro's government.  His childhood became a mix of real-world turmoil and a fantasy life that he created for himself on the roof of his grandparents' home—a rooftop escape underneath the branches of their avocado tree, high above the roosters and chickens, and the worries of daily life.



In 1969, at age fourteen, Calcines, along with his father, mother, and sister, finally escaped Castro's "gulag" for a better life in the United States.  After a five-year stay in Milwaukee, Wisconsin, the Calcines family moved south to Tampa, Florida, where Calcines currently resides with his own family.  A successful businessman for over thirty years, Calcines finally decided to tell the story of his childhood in Communist Cuba with his gripping memoir Leaving Glorytown: One Boy's Struggle Under Castro.  His humorous and enthralling storytelling ability breathes life into the characters and anecdotes that shaped his childhood experiences. This same storytelling ability will lead to follow-up books. One is about coming of age as an immigrant in a new culture. A second is about becoming an adult, dealing with the pain of leaving his family, and coming to terms with his blinding hatred of Castro.
Praise For…
---
"Calcines's spirited memoir captures the political tension, economic hardship, family stress, and personal anxiety of growing up during the early years of the Castro regime in Cuba." —Starred, School Library Journal

"Engaging. " —VOYA

"Calcines' vibrant writing gives readers an intimate, front-porch view of his family . . . . will captivate readers and open a door to a subject seldom written about for teens." —Booklist

"Calcines is particularly good at emphasizing the importance of family and at describing how young Eduardo navigates the complications of having close friends who remain loyal to the Communist party." —Bulletin of the Center for Children's Books

"Calcines . . . nonetheless recalls being surrounded by loving adults who weathered adversity with a combination of strong character and unshakeable faith." —Kirkus Reviews

"Leaving Glorytown will leave readers with unforgettable lessons about the struggles that people experienced under Fidel Castro's leadership and the opportunities that come with freedom." —Rutgers University Project on Economics and Children

"One of the biggest reasons why I like this book is because it is not only the story of the Cuban Revolution, but it's also the story of an average kid dealing with frustration of growing up." —Kota, 13