The Making of Zombie Wars: A Novel (Hardcover)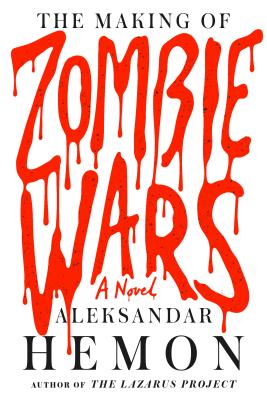 Description
---
The seriously, seriously funny roller-coaster ride of sex and violence that Aleksandar Hemon has long promised

Script idea #142: Aliens undercover as cabbies abduct the fiancée of the main character, who has to find a way to a remote planet to save her. Title: Love Trek.

Script idea #185: Teenager discovers his girlfriend's beloved grandfather was a guard in a Nazi death camp. The boy's grandparents are survivors, but he's tantalizingly close to achieving deflowerment, so when a Nazi hunter arrives in town in pursuit of Grandpa, he has to distract him long enough to get laid. A riotous Holocaust comedy. Title: The Righteous Love.

Script idea #196: Rock star high out of his mind freaks out during a show, runs offstage, and is lost in streets crowded with his hallucinations. The teenage fan who finds him keeps the rock star for himself for the night. Mishaps and adventures follow. This one could be a musical: Singin' in the Brain.

Josh Levin is an aspiring screenwriter teaching ESL classes in Chicago. His laptop is full of ideas, but the only one to really take root is Zombie Wars. When Josh comes home to discover his landlord, an unhinged army vet, rifling through his dirty laundry, he decides to move in with his girlfriend, Kimmy. It's domestic bliss for a moment, but Josh becomes entangled with a student, a Bosnian woman named Ana, whose husband is jealous and violent. Disaster ensues, and as Josh's choices move from silly to profoundly absurd, The Making of Zombie Wars takes on real consequence.
About the Author
---
Aleksandar Hemon is the author of The Lazarus Project, which was a finalist for the 2008 National Book Award and the National Book Critics Circle Award, and three books of short stories: The Question of Bruno; Nowhere Man, which was also a finalist for the National Book Critics Circle Award; and Love and Obstacles. He was the recipient of a 2003 Guggenheim Fellowship and a "genius grant" from the MacArthur Foundation, and the 2020 Dos Passos Prize. He lives in Chicago.
Praise For…
---
"The book is funny and pleasantly loose . . . The writing is always worthy of your time. This funny, free-flowing, gloriously imperfect book has the impression of an important writer in transition, of moving from the dead toward the living, of trying to have some fun despite this land so crowded with the lost and the lamented. In the end, we are all fighting our zombie wars, and we all need stories to keep us moving." —New York Times Book Review

"Zestfully funny in his skewering of hypocrisy and pretension and warmly insightful regarding family, friendship, lust, and love, Hemon astutely ties it all together" —Booklist (starred review)

"What has always been an element of sardonic humor in Hemon's work now expands into a fast-paced, darkly comic tale set in Chicago . . .deeply and comically satisfying." —The Chicago Tribune

"The Making of Zombie Wars is crazy in the best sense of the word, and very few authors could have pulled it off - even in its most sober moments, it's still essentially absurd. But Hemon is such a brilliant prose stylist, it's impossible not to get pulled in, not just by his sense of humor, but by his startling observations about what makes us human (or something like it)." —Michael Schaub for NPR.org

"Manic and maniacally funny" —Newsday

"Beautiful fiction" —The Huffington Post

"Loud, flashy and crackling with animated energy." —The Houston Chronicle

"A delightful ride through an ordinary life kicking into high, crazy gear. With zombies." —Carolyn Kellogg, The Los Angeles Times

"A powerful, masterful work from one of our most significant literary writers, at once madcap and thoughtful, exhilarating and devastating." —The National Post

"All this zombie-spiked zaniness is boosted by Hemon's adroit style, his ability to re-create in written language the comic timing of a flawless oral delivery." —The Washington Post

"Hemon's latest novel may be as humorous as its title indicates, but The Making of Zombie Wars doesn't shy away from the challenging topics" —Paste Magazine

"At once unimaginable and unforgettable." —Time, a Best Book of the Year on The Book of My Lives

"An extraordinary story." —The New Yorker on The Book of My Lives

"Acute meditations on exile and otherness, and the redeeming power of language." —The Economist, a Best Book of the Year on The Book of My Lives

"As crowded as the pool of contemporary writers wrestling with the American experience has become . . . no discussion is complete without Aleksandar Hemon." —Chicago Tribune, a Best Book of the Year on The Book of My Lives
Coverage from NPR