Crucible of Gold (Hardcover)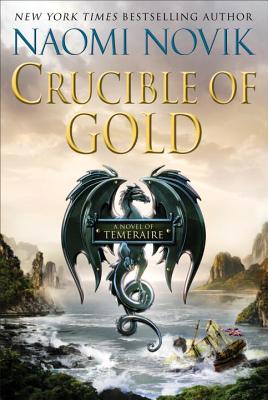 Description
---
Naomi Novik's beloved series returns, with Captain Will Laurence and his fighting dragon Temeraire once again taking to the air against the broadsides of Napoleon's forces and the friendly—and sometimes not-so-friendly—fire of British soldiers and politicians who continue to suspect them of divided loyalties, if not outright treason. 
 
For Laurence and Temeraire, put out to pasture in Australia, it seems their part in the war has come to an end just when they are needed most. But perhaps they are no longer alone in this opinion. Newly allied with the powerful African empire of the Tswana, the French have occupied Spain and brought revolution and bloodshed to Brazil, threatening Britain's last desperate hope to defeat Napoleon.
 
And now the government that sidelined them has decided they have the best chance at negotiating a peace with the angry Tswana, who have besieged the Portuguese royal family in Rio—and thus offer to reinstate Laurence to his former rank and seniority as a captain in the Aerial Corps. Temeraire is delighted by this sudden reversal of fortune, but Laurence is by no means sanguine, knowing from experience that personal honor and duty to one's country do not always run on parallel tracks.
 
Nonetheless, the pair embark for Brazil, only to meet with a string of unmitigated disasters that force them to make an unexpected landing in the hostile territory of the Incan empire, where they face new unanticipated dangers.
 
Now with the success of the mission balanced on a razor's edge, and failure looking more likely by the minute, the unexpected arrival of an old enemy will tip the scales toward ruin. Yet even in the midst of disaster, opportunity may lurk—for one bold enough to grasp it.
About the Author
---
Naomi Novik is the acclaimed author of "His Majesty's Dragon, Throne of Jade, Black Powder War, Empire of Ivory, ""Victory of Eagles, "and" Tongues of Serpents, "the first six volumes of the Temeraire series, recently optioned by Peter Jackson, the Academy Award-winning director of the Lord of the Rings trilogy. In 2007, Novik received the John W. Campbell Award for Best New Writer at the World Science Fiction Convention. A history buff with a particular interest in the Napoleonic era, Novik studied English literature at Brown University, then did graduate work in computer science at Columbia University before leaving to participate in the design and development of the computer game Neverwinter Nights: Shadows of Undrentide. She is also the author of the graphic novel "Will Supervillains Be on the Final? "Novik lives in New York City with her family and six computers.
Praise For…
---
Praise for Naomi Novik and her novels of Temeraire
 
"Novik's influences run the gamut from Jane Austen to Patrick O'Brian, with a side trip through Anne McCaffrey. Her books are completely involving and probably addictive, their central conceit explored in clever detail with a great deal of wit and historical insight."—San Francisco Chronicle
 
"These are beautifully written novels: not only fresh, original, and fast-paced, but full of wonderful characters with real heart."—Peter Jackson
 
"A gripping adventure full of rich detail and the impossible wonder of gilded fantasy."—Entertainment Weekly
 
"A new writer is soaring on the wings of a dragon."—The New York Times
 
"[This is] a glorious series whose future status as a genre classic is now assured."—SF Reviews