The Rise: Black Cooks and the Soul of American Food: A Cookbook (Hardcover)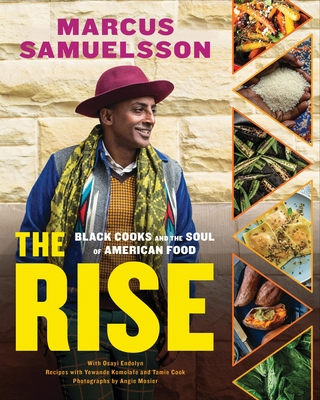 Description
---
An Eater Best Cookbook of Fall 2020 • This groundbreaking new cookbook from chef, bestselling author, and TV star Marcus Samuelsson celebrates contemporary Black cooking in 150 extraordinarily delicious recipes.
It is long past time to recognize Black excellence in the culinary world the same way it has been celebrated in the worlds of music, sports, literature, film, and the arts. Black cooks and creators have led American culture forward with indelible contributions of artistry and ingenuity from the start, but Black authorship has been consistently erased from the story of American food.  
Now, in 
The Rise
, chef, author, and television star Marcus Samuelsson gathers together an unforgettable feast of food, culture, and history to highlight the diverse deliciousness of Black cooking today. Driven by a desire to fight against bias, reclaim Black culinary traditions, and energize a new generation of cooks, Marcus shares his own journey alongside 150 recipes in honor of dozens of top chefs, writers, and activists—with stories exploring their creativity and influence.  
Black cooking has always been more than "soul food," with flavors tracing to the African continent, to the Caribbean, all over the United States, and beyond. Featuring a mix of everyday food and celebration cooking, this book also includes an introduction to the pantry of the African diaspora, alongside recipes such as:  
Chilled corn and tomato soup in honor of chef Mashama Bailey
Grilled short ribs with a piri-piri marinade and saffron tapioca pudding in homage to authors Michael Twitty and Jessica B. Harris
Crab curry with yams and mustard greens for Nyesha Arrington 
Spiced catfish with pumpkin leche de tigre to celebrate Edouardo Jordan
Island jollof rice with a shout-out to Eric Adjepong
Steak frites with plantain chips and green vinaigrette in tribute to Eric Gestel
Tigernut custard tart with cinnamon poached pears in praise of Toni Tipton-Martin
A stunning work of breadth and beauty, 
The Rise 
is more than a cookbook. It's the celebration of a movement.  
About the Author
---
Marcus Samuelsson is the acclaimed chef behind many restaurants worldwide. He has won multiple James Beard Foundation awards for his work as a chef and as host of No Passport Required, his public television series with Vox/Eater. Samuelsson was crowned champion of Top Chef Masters and Chopped All Stars, and was the guest chef for President Obama's first state dinner. A committed philanthropist, Samuelsson is co-chair of Careers through Culinary Arts Program (C-CAP), which focuses on underserved youth. Author of several cookbooks in addition to the NewYork Times bestselling memoir Yes, Chef, Samuelsson also co-produces the annual Harlem EatUp! festival, which celebrates the food, art, and culture of Harlem. During the COVID-19 pandemic, Samuelsson converted his restaurants Red Rooster Harlem, Marcus B&P in Newark, and Red Rooster Overtown in Miami into community kitchens in partnership with World Central Kitchen, serving well over 150,000 meals to those in need. Follow him on Instagram, Facebook, and Twitter at @MarcusCooks. 
 
Osayi Endolyn is a James Beard Award–winning writer with work in Time, the Washington Post, the Los Angeles Times, the Wall Street Journal, Eater, Food & Wine, Condé Nast Traveler, and the Oxford American. She appears in Chef's Table and Ugly Delicious on Netflix, and has been featured on NPR's 1A, Splendid Table, Special Sauce with Ed Levine, and the Sporkful podcast, for which she won a Webby. She is a recipient of the UC Berkeley-11th Hour Food & Farming Journalism Fellowship, and Southern Living named her one of thirty women moving Southern food forward. In addition to other book collaborations, Endolyn is working on a narrative about the history of systemic racism in American restaurant and dining culture. Follow her @osayiendolyn on Twitter and Instagram.

Yewande Komolafe is a writer, recipe developer, and food stylist from Lagos, Nigeria. She develops recipes that lend taste and texture to her experience as an immigrant in the United States. A regular contributor to the New York Times, her work has also appeared in Whetstone, Taste Cooking, Food + Wine, Saveur, and several other platforms and publications. She lives in Brooklyn with her husband, daughter, and many jars of spices.
Praise For…
---
Named ONE OF THE MOST ANTICIPATED COOKBOOKS OF THE YEAR by Eater, Epicurious, The Kitchn
[
The Rise]
 is an invigorating, joyous, and deeply nuanced illustration of the complexity of Black foodways, one that weaves together conversations about history, artistry, authorship, race, class, and culture with 150 recipes that incorporate ingredients and techniques from around the globe... [It] doesn't claim to be an encyclopedic compendium of Black cooking; instead, it's a celebration, one that honors the past while looking ahead, challenging assumptions even as it feeds you well.—
Rebecca Flint Marx
,
Eater
This book is a celebration of Black excellence in cooking — something that is always important, and feels essential for 2020. With 150 recipes, Marcus Samuelsson illustrates how "Black cooking is the engine of what we commonly understand to be American food." Each recipe in the book honors various chefs, activists, artists, authors, and historians who "illuminate the space we share"... It's a book you'll want to cook from, but also sit down and read.—
The Kitchn
By about book thirty of my preparation for this story, I start going through a checklist for each option. Does this book inspire me? Teach me a new technique? Does it actually 
feed
 me: is it a book I'll cook from, and not just read? 
The Rise,
 written by Marcus Samuelsson and Osayi Endolyn, with recipes by Yewande Komolafe and Tamie Cook, does all three. It's a book about Black excellence in the food world; the recipes have roots in the Caribbean, the American South, and Africa. They are both nostalgic and forward-thinking.—
EpicuriousThe Rise
is not just a recipe collection; it is a tool for change—
The New York Times Book Review
While years in the making,
 The Rise
 reads like a response to the racial awakening that has defined the tumultuous spring and summer of 2020... [It] joins other recent cookbooks, notably by Toni Tipton-Martin, in celebrating the diversity of Black American food, and by making Black chefs and cooks the center of the story of American cuisine. The book also suggests a strategy for responding proactively to this moment: read, cook, reflect. Now repeat.—
The New York Times
Along with James Beard Award–winning author Osayi Endolyn and recipe developers Yewande Komolafe and Tamie Cook, [Marcus Samuelsson] takes readers on a culinary journey to discuss the diversity, history, culture, and spirituality that Black food and Black chefs express. Among biographies highlighting the culinary contributions of dozens of contemporary Black chefs including Shakirah Smiley, Nina Compton, and Eric Gestel, readers will find more than 150 delicious recipes, each shared in tribute to their work... This book is a celebration of Black culture through food, and a must for all readers of culinary history. An amazing addition to any library collection.—
Booklist Starred Review
This book is gumbo for your soul. A perfect storm of food, family, love, sharing of space and storytelling, it's the only gift I'll be giving this holiday season. Marcus has combined all of my favorite things: lineage, love and delicious cuisine. This melanated masterpiece is both delicious and nutritious.—
Activist, writer, and filmmaker Kimberly Jones
Co-written with Osayi Endolyn, Chef Marcus Samuelsson's long-awaited cookbook, 
The Rise: Black Cooks and the Soul of American Food
, profiles the next generation of Black chefs and creators like Kwame Onwuachi and Adrienne Cheatham shaping America's culinary future. We cannot recommend this book highly enough.—
Food & Wine
The book challenges the notion that Black cooking has one monochromatic definition and puts the chefs who create it on their proper pedestal. The authors argue that there is no American food without Black food and offer over 150 recipes to prove their point...It's shameful I've never tried cooking something as simple and filling as rice and peas (learning also that peas' actually means red beans in this traditional dish.) Sad, too, that I'd never heard of most of these chefs, but "The Rise" offers help for the ignorant like me with easy-to-follow recipes combined.—
CNN Travel
With
The Rise
, my friend Marcus shows the incredible diversity of America's Black Experience when it comes to food. We are more than what's considered traditional "soul food" and
The Rise
shows you why.—
Al RokerThe Rise
 is more than a cookbook; it is a conversation, a collaboration, and, above all, a declaration that Black Food Matters.—
VogueThe Rise
 was created to highlight the incredible talent and journey of Black chefs, culinarians, and writers at work today, and to show how the stories we tell can help make a more equitable, just industry... This is not a compilation cookbook, but rather it's the fruit of Samuelsson and his team thinking deeply about the contributions of each of these chefs to our national culinary discourse and channelling them in creation of new recipes... Here's to us all swapping our Zagats for 
The Rise 
as we plan our first post-pandemic road trips, windows down, and singing these names at the top of our lungs.—
Porchlight Books
Part cookbook, part history book, part chronicle of today's Black chefs, Chef Marcus Samuelsson's new book, 
The Rise: Black Cooks and the Soul of American Food, 
is an ode to the complexity of Black cuisine... it's also a call for society to recognize the contributions of this cuisine, a mission standing on three pillars: "
authorship
 of our food and rituals; 
memory
 of history, where we started, and where we've gone; and 
aspiration
 for the future."—
Shondaland
...a gorgeous celebration of Black cooks and their valuable contribution to the contemporary culinary world. Samuelsson tells his own story and profiles Black chefs, writers, and others from across the country with 150 recipes highlighting this vast wealth of creativity and influence that deserves to be acknowledged and honored.
The Rise
 is a cookbook for our times, one that elevates awareness and brings a feast of delicious dishes to home cooks everywhere.—
Amazon Book Review
It's hard to think of a book better-timed than Marcus Samuelsson's The Rise: Black Cooks and the Soul of American Food, a luminous journey through the many splendored worlds of black-American cuisine. Part cookbook, part tasty history lesson, it adds a sweet note to the belated celebration of under-appreciated black artists, writers, filmmakers, inventors and business innovators. The book's also a mood-lifter for this terrible pandemic year. What's more heartwarming than 300 pages of food illustrations so luscious-looking, you want to eat them off the pages?
—
New York Post
Bestselling author, chef, and TV star Marcus Samuelsson has put together 150 recipes that celebrate contemporary Black cooking. It's about time more Black cooks and creators are recognized in the American culinary world...It's more than a cookbook — it's a celebration.
—
Greatist
This gorgeous book is part history lesson, part stirring memoir with generous helpings of love for Black chefs, authors, scholars and food industry leaders who are living proof that Black Food Matters.—
ForbesThe Rise
 is a cookbook for our times, one that elevates awareness and brings a feast of delicious dishes to home cooks everywhere.—
The Amazon Book Review
...A fascinating, deeply researched journey into the primary role that Black foodways plays in American cooking. Readers are introduced to a rich talent pool of contemporary Black chefs, and their diverse work comes alive in nearly 150 recipes. It's the kind of cookbook that's equally at home on the nightstand and in the kitchen.—
Star Tribune
A journey through food and history that will leave hearts (and bellies) full. No reservation required.—
Bloomberg
In 
The Rise
, Marcus Samuelsson gathers food, culture and history to highlight the diverse deliciousness of Black cooking.—
Taste of Home
...A book that's unlike any other.—
5280 Denver