The Pocket Encyclopedia of Aggravation: 97 Things That Annoy, Bother, Chafe, Disturb, Enervate, Frustrate, Grate, Harass, Irk, Jar, Miff, Nettle, Outrage, Peeve, Quassh, Rile, Stress Out, Trouble, Upset, Vex, Worry, and X Y Z You! (Hardcover)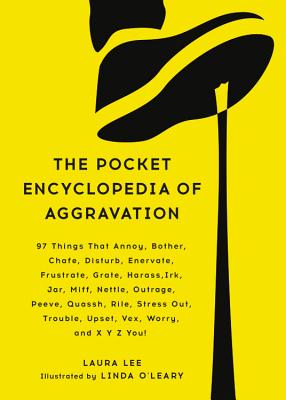 Description
---
This collection of 100 headaches, day-ruining events, moment destroying mishaps and infuriating everyday aggravations presents the fascinating facts behind the world's most frustrating situations.

Laura Lee's dry, humorous and scientific text explains why fingernails on the chalkboard make you cringe; why people drive slowly in the fast lane; why dripping faucets annoy women more than men; why the other line is always faster than the one you are on; and more. She also gives tips on how to deal with annoying things like brain freeze, hangnails, and that coworker that wears too much perfume. Amazingly, some things are less annoying when you know the facts.
Redesigned with enlightening diagrams and witty drawings, The Pocket Guide of Aggravation, finally answers the question, why is that so annoying?
About the Author
---
Laura Lee is the author of several books, which include Blame It on the Rain: How Weather Has Changed History and 100 Most Dangerous Things in Everyday Life and What you Can Do About Them. She brings an eclectic background that includes time spent as a radio announcer, an improvisational comic, and a professional mime. Laura lives in Michigan where she divides her time between writing and producing ballet educational tours with Russian ballet star Valery Lantratov.