The Disorganized Mind: Coaching Your ADHD Brain to Take Control of Your Time, Tasks, and Talents (Paperback)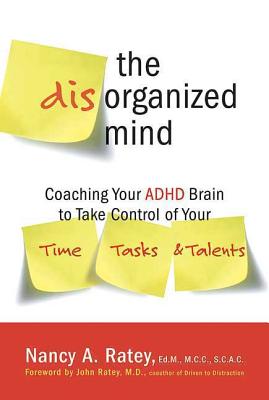 Description
---
For the millions of adults diagnosed with ADHD The Disorganized Mind will provide expert guidance on what they can do to make the most of their lives. The inattention, time-mismanagement, procrastination, impulsivity, distractibility, and difficulty with transitions that often go hand-in-hand with ADHD can be overcome with the unique approach that Nancy Ratey brings to turning these behaviors around.

The Disorganized Mind addresses the common issues confronted by the ADHD adult:
"Where did the time go?"
"I'll do it later, I always work better under pressure anyway."
"I'll just check my e-mail one more time before the meeting…"
"I'll pay the bills tomorrow – that will give me time to find them."

Professional ADHD coach and expert Nancy Ratey helps readers better understand why their ADHD is getting in their way and what they can do about it. Nancy Ratey understands the challenges faced by adults with ADHD from both a personal and professional perspective and is able to help anyone move forward to achieve greater success. Many individuals with ADHD live in turmoil. It doesn't have to be that way. You can make choices and imagine how things can change – this book will teach you how. By using ADHD strategies that have worked for others and will work for you, as well as learning how to organize, plan, and prioritize, you'll clear the hurdles of daily living with a confidence and success you may never before have dreamed possible.

Nancy Ratey has the proven strategies that will help anyone with ADHD get focused, stay on track, and get things done - and finally get what they want from their work and their life.
About the Author
---
Nancy A. Ratey, Ed.M., MCC, SCAC, is a Strategic Life Coach who specializes in coaching professionals with ADHD. She earned her Master's Degree in Administration, Planning, and Social Policy from the Harvard Graduate School of Education, and is certified as a Master Certified Coach by the International Coach Federation and a Senior Certified Coach by The Institute for the Advancement of ADHD Coaching.  In addition to her private coaching practice, she lectures at conferences and symposiums worldwide, and writes on the subject of ADHD.  As one of the founders of the ADHD Coaching field, Nancy is internationally recognized as one of the foremost authorities on the topic.  Her work has been featured in The New York Times, Newsday, Wired, Vogue; on ABC, CBS and NPR.

Nancy currently practices in Wellesley, MA, where she resides with her husband, Dr. John Ratey.
Praise For…
---
"Nancy Ratey, the queen-maven of coaching, has written a masterful and practical guide to the world of promoting peak performance and peace of mind through the power of coaching. The Disorganized Mind will make all who read it more successful, less stressed, and happier in their pursuit of their goals. This book is a total winner!" —Edward Hallowell, M.D., co-author of Driven to Distraction and author of CrazyBusy

"In a very warm and personal style, Nancy Ratey, a true pioneer in the field, demonstrates the depth of her expertise and empathy for adults with ADHD. In her book, The Disorganized Mind, Ratey skillfully guides the reader through a potentially life changing process!" —Sari Solden, MS, author of Women with ADD and Journeys through ADDulthood

"Well done! This book will really help ADDers understand what coaching is and how they can self-coach. It's a compassionate book clearly based on years of successful coaching experience. I'll recommend it to my clients." —Judith Kolberg, Award-winning professional organizer. Co-author, ADD-Friendly Ways to Organize Your Life

"Speaking as a mother of a child with LD and ADHD, I knew little about coaching prior to reading Nancy Ratey's extremely insightful book. I particularly liked the chapter on Time Mismanagement as I have seen first hand how challenging this can be. Nancy's book will inspire, and serve as an invaluable life guide for those who lead scattered, disorganized lives." —Anne Ford, Chairman Emeritus, National Center for Learning Disabilities and author of Laughing Allegra and On Their Own

"Through her years of experience coaching others with the disorder, Nancy Ratey has seen firsthand that people can change their lives. The book demonstrates the power of coaching and/or self-coaching and the difference it can make for those with ADHD." —From the Foreword by John J. Ratey, M.D., co-author of Driven to Distraction