Great Tales and Poems of Edgar Allan Poe (Vintage Classics) (Paperback)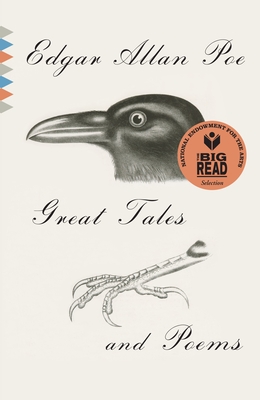 Description
---
A new selection for the NEA's Big Read program

A compact selection of Poe's greatest stories and poems, chosen by the National Endowment for the Arts for their Big Read program.

This selection of eleven stories and seven poems contains such famously chilling masterpieces of the storyteller's art as "The Tell-tale Heart," "The Fall of the House of Usher," "The Cask of Amontillado," and "The Pit and the Pendulum," and such unforgettable poems as "The Raven," "The Bells," and "Annabel Lee." Poe is widely credited with pioneering the detective story, represented here by "The Purloined Letter," "The Mystery of Marie Roget," and "The Murders in the Rue Morgue."

Also included is his essay "The Philosophy of Composition," in which he lays out his theory of how good writers write, describing how he constructed "The Raven" as an example.
About the Author
---
Edgar Allan Poe was a poet, short-story writer, editor and literary critic. He was one of the earliest American practitioners of the short story and is considered the inventor of the detective-fiction genre. Born Edgar Poe in Boston in 1809, he was raised in Virginia by foster parents named Allan who gave him his middle name. Poe died of unknown causes in Baltimore in 1849.