Who Is the City For?: Architecture, Equity, and the Public Realm in Chicago (Hardcover)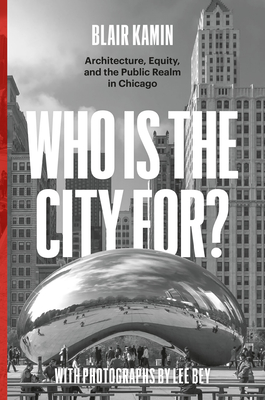 Description
---
A vividly illustrated collaboration between two of Chicago's most celebrated architecture critics casts a wise and unsparing eye on inequities in the built environment and attempts to rectify them.
 
From his high-profile battles with Donald Trump to his insightful celebrations of Frank Lloyd Wright and front-page takedowns of Chicago mega-projects like Lincoln Yards, Pulitzer Prize–winning architecture critic Blair Kamin has long informed and delighted readers with his illuminating commentary. Kamin's newest collection, Who Is the City For?, does more than gather fifty-five of his most notable Chicago Tribune columns from the past decade: it pairs his words with striking new images by photographer and architecture critic Lee Bey, Kamin's former rival at the Chicago Sun-Times. Together, they paint a revealing portrait of Chicago that reaches beyond its glamorous downtown and dramatic buildings by renowned architects like Jeanne Gang to its culturally diverse neighborhoods, including modest structures associated with storied figures from the city's Black history, such as Emmett Till.
 
At the book's heart is its expansive approach to a central concept in contemporary political and architectural discourse: equity. Kamin argues for a broad understanding of the term, one that prioritizes both the shared spaces of the public realm and the urgent need to rebuild Black and brown neighborhoods devastated by decades of discrimination and disinvestment.  "At best," he writes in the book's introduction, "the public realm can serve as an equalizing force, a democratizing force. It can spread life's pleasures and confer dignity, irrespective of a person's race, income, creed, or gender. In doing so, the public realm can promote the social contract — the notion that we are more than our individual selves, that our common humanity is made manifest in common ground." Yet the reality in Chicago, as Who Is the City For? powerfully demonstrates, often falls painfully short of that ideal.
About the Author
---
Blair Kamin is the author or editor of several books, including Why Architecture Matters: Lessons from Chicago and Terror and Wonder: Architecture in a Tumultuous Age. The Chicago Tribune's architecture critic for 28 years, Kamin was awarded the Pulitzer Prize for Criticism in 1999.

Lee Bey is an editorial writer and architecture critic for the Chicago Sun-Times and the author of Southern Exposure: The Overlooked Architecture of Chicago's South Side. Previously former Chicago mayor Richard M. Daley's deputy chief of staff for architecture and urban planning, Bey has had photographs published in the New York Times and Architectural Digest.
Praise For…
---
"With this volume joining (Kamin's) two previous collections, it makes for a trio that should be required reading for any developer or politician with notions of having their hands in sharing and shaping the city."  
— Rick Kogan
"Kamin's work has always caused a stir within the world of architecture and politics, asking challenging questions that have advanced what was possible at the intersection of both worlds. . . . [His new book] is an invitation to think carefully about the significance of public space and the ways in which our city shows its priorities by investing in some areas far more than others."  
— Annie Howard, Chicago Architect Magazine
"It is divinely inspired that the spine of former Chicago Tribune architecture critic Blair Kamin's new collection of essays is red and bleeds slightly onto the front and back covers. . . The red line of the spine . . . serves as a reminder of the policies, legislation, and rules that have kept Chicago racially and economically separated. In
Who Is the City For?Architecture, Equity, and the Public Realm in Chicago
, Kamin, with the support of photographs by Chicago Sun-Times architecture critic Lee Bey, probes just who Chicago serves and how the city can be reshaped and reimagined as a space for all its residents."
— Chicago Magazine
"[
Who Is the City For?
] offers plentiful, incisive, and urbanistic vignettes of Chicago. . . . It will be treasured by urbanophiles and architecture lovers alike. . . . Excellent photographs support the collection. In Kamin's masterful hand, architectural criticism is about far more than design. It is a civic project: a public conversation
about politics, the public good, and the promise of urban life."
— Booklist
"A collection of 55 Kamin essays from the past decade, with outstanding photographs by Bey. . . . if you really want to understand what we're missing in architecture criticism today, read (this) new book."
— J. Michael Welton, Architects+Artisans
"Chicago is one of the architectural capitals of the world, and in this new collaboration from today's leading critics in the field, Blair Kamin and Lee Bey lay bare the inequities that are entrenched in our built environment. Stretching beyond the eye-catching skyscrapers of downtown into the rich history of the city's diverse neighborhoods, 
Who is the City For? 
is a necessary and revealing portrait of Chicago with a powerful message on how we can rebuild our public spaces with equity in mind."
— Chicago Review of Books, "12 Must-Read Books of November"
"The essays in
Who Is the City For?
present Chicago as an analogue for any city and how architecture and urban design have an ability to bolster and transform the lives of individuals and their communities. . . . Coupled with Lee Bey's striking photographs, Kamin effectively shows how architecture and urban design can reframe our lived environment and experiences. . . . He's imploring us to do more than look, he's showing us the power of seeing, examining, and how to ask the right questions."   
— Brock Kingsley, Chicago Review of Books
"All of the pieces are written in the efficient, snappy prose of a newspaperman and would be a good study for anyone who wishes to converse 
intelligently and persuasively about the state of our public places. . . . With his work, Kamin holds power to public account. Chicago is lucky to have him manning the watch against civic barbarity."  
— Nicholas Mancusi
"For more than thirty years, Kamin's clearheaded and forceful writing has set the standard for American architectural criticism. With this wide-ranging new collection, he steps into the intersection where design, urbanism, and social justice meet, proving once again that the best architecture writing is about much more than the way buildings look."
— Inga Saffron, Pulitzer Prize winner and author of Becoming Philadelphia: How an Old American City Made Itself New Again
"Kamin's remarkable and eminently readable new collection is fresh evidence that the best architectural criticism is ultimately about people, rather than buildings."
— Jerold S. Kayden, author of Privately Owned Public Space: The New York City Experience, Frank Backus Williams Professor of Urban Planning and Design at the Harvard University Graduate School of Design
"No one can match Blair Kamin's sustained scrutiny and deep understanding of Chicago architecture over the last three decades and beyond. In this book, he succeeds splendidly in offering a new collection of his uniformly excellent, interesting, and important writings.
Who Is the City For?
is compelling reading for anyone interested not just in Chicago, but in significant trends—both good and bad—in contemporary architecture and city life more broadly."
— Carl Smith, author of The Plan of Chicago: Daniel Burnham and the Remaking of the American City
"The book features striking black-and-white photographs of structures like 'Cloud Gate' in Millennium Park. . . (It) reveals how much influence a good architecture critic can have on a city to shape opinion and sound the alarm when something is going wrong."
— Mary Wisniewski
"
Who Is the City For?
 collects 55 stories by former
Tribune
architecture critic Blair Kamin, focusing on the idea of Chicago as a sort of collective trust—or as Kamin explains, 'our common humanity is made manifest in common ground.' Cleverly, the book pairs its columns with photos from
Sun-Times
architecture critic Lee Bey."  
— Christopher Borelli
"It's a great collection of Blair's columns and also some wonderful photographs from Lee Bey. . . It's a beautiful book,"  
— Bob Sirott, WGN Radio
"This is a wonderful book."  
— Joan Esposito, host, WCPT 820 AM radio, Chicago
"[The reviews collected here] capture Kamin's memorable watchdog ethos that had architects fuming or trembling every week."  
— Chicago Reader
"What do you get when you put two of Chicago's preeminent architecture critics together? A thought-provoking book about the city's storied architecture."
— WTTW, "Chicago Tonight"
"These engaging and thought-provoking essays remind us of the importance of architecture critics in the daily city newspaper realm and what we stand to lose as they—like many others in the shrinking world of thoughtful journalism—are phased out by the corporate gulping down of newspapers."  
— OnMilwaukee
"A must-have for people who love this city. . . . A real treasure."
— John Williams, WGN Radio
"I feel this is a great book for grounding my burgeoning knowledge of Chicago's architecture and history, but that it would also serve to heighten the understanding of both for readers already more well-versed. As a bonus, there are so many wonderful photographs throughout the book, most of which were contributed by the incomparable Lee Bey!"
— Jacob Zawa, The Book Stall, Winnetka
"The collection demonstrates the powerful perspective that Kamin and Bey bring to bear, reminding readers that all cities deserve the consideration of such insightful voices."
— Edward Keegan, AIA, Architect magazine
"A great documentation of Chicago's recent architectural history…these short texts offer an excellent starting point from which to understand the specifics of recent Chicago architecture and urbanism, at a point where much of this past is now receding into pre-pandemic history."
— Eric Mumford, Architectural Record
"Useful for those looking to refresh their knowledge and learn about the last decade of architecture in Chicago. . . . [Kamin's] discourse was often loud and clear enough for architects, city planners, and even Donald Trump to hear and respond to. Architecture criticism at that level is a public service."
— Elizabeth Blasius, Constructs (Yale School of Architecture)
"Must-Read. . . . A case for the value of architectural criticism."
— Sydney Shilling, Azure magazine (Toronto)
"The perfect holiday gift for the design-lover in your life."
— Chicago Architecture Center
This third collection of reviews by newspaper architecture critic Blair Kamin covers recent events in Chicago, a city world-famous for its architecture. In addressing the title's question, Kamin concentrates on how people conduct their lives in the city rather than on how architects and developers build and find profit there. . . . Especially valuable are comments about programs for revitalizing derelict areas and the importance of enhancing established neighborhood patterns. . . . Recommended."
— Choice
"The book's reach is inherently more accessible than a traditional academic publication, and yet will also find a place in the university classroom. [The collected columns] will also undoubtedly have implications for cities beyond Chicago. . . . From the specter of the skyscraper to the unintended consequences of increasing public access to greenspace, Kamin deftly argues that while urban development often benefits the financial state of cities, it doesn't necessarily benefit its citizenry."
— Joss Kiely
"The columns within each section contain varied subjects, withering criticisms, credit where it is due, and calls to action — all delivered in crisp, precise, and evocative prose. . . . Opinionated, erudite, and written in a way that will appeal to a larger audience than just architecture and planning experts,
Who is the City For?
has broad lessons within its pages that apply far beyond the Windy City."
— Ray Bert, Civil Engineering Online, American Society of Civil Engineers