Feast: Why Humans Share Food (Paperback)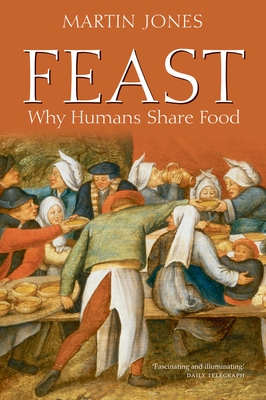 Description
---
The family dinner, the client luncheon, the holiday spread--the idea of people coming together for a meal seems the most natural thing in the world. But that is certainly not the case for most other members of the animal kingdom. In Feast, archeologist Martin Jones presents both historic and modern scientific evidence to illuminate how prehistoric humans first came to share food and to trace the ways in which the human meal has shaped our cultural evolution.
Jones shows that by studying the activities of our closest animal relative, the chimpanzee, and by unearthing ancient hearths, some more than 30,000 years old, scientists have been able to piece together a picture of how our ancient ancestors found, killed, cooked, and divided food. In sites uncovered all over the world, fragments of bone, remnants of charred food, pieces of stone or clay serving vessels, and the outlines of ancient halls tell the story of how we slowly developed the complex traditions of eating we recognize in our own societies today. Jones takes us on a tour of the most fascinating sites and artifacts that have been discovered, and shows us how archeologists have made many fascinating discoveries. In addition, he traces the rise of such recent phenomena as biscuits, "going out to eat," and the Thanksgiving-themed TV dinner.
From the earliest evidence of human consumption around half a million years ago to the era of the drive-through diner, this fascinating account unfolds the history of the human meal and its profound impact on human society.

About the Author
---
Martin Jones is George Pitt-Rivers Professor of Archeological Science at the University of Cambridge, and specializes in the study of the archeological remains of early food. In the 1990s he was Chairman of the Ancient Biomolecule Initiative that pioneered some of the most important new methods of archaeological science used in such research. His previous books include The Molecule Hunt.