The Pocket Butler's Guide to Good Housekeeping: Expert Advice on Cleaning, Laundry and Home Maintenance (Hardcover)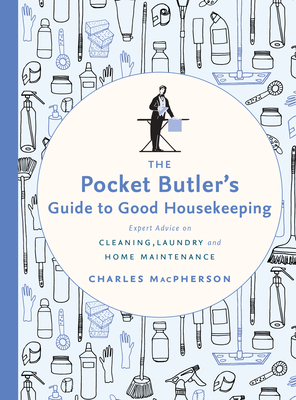 Description
---
Everyone's favourite butler is back! Get your home spic and span with Charles MacPherson's expert tips and tricks for everything from polishing silverware to organizing the garage.

After over 30 years as a professional butler and household manager, Charles MacPherson knows a thing or two about keeping a home clean and organized. He has poured his vast knowledge and expertise into this pocket-sized volume, perfect for easy day-to-day reference or to guide your next marathon cleaning session.

Everything you need to know is here. With step-by-step instructions for cleaning, organizing, and maintaining every room in your home, The Pocket Butler's Guide to Housekeeping comprises information-packed chapters on cleaning, laundry, organization, and more. Wondering how to tackle a fresh stain? Looking for recipes for natural and gentle cleaning products? Want to finally master those crisp hospital corners for making your bed? Look no further than this definitive cleaning caddy companion.

With handy checklists for daily, weekly, monthly, and annual cleaning; a complete guide to laundry symbols and fabric types; advice for hosting guests; and even tips for dealing with pests, damage, and long-term maintenance, this is a volume no home should be without.
About the Author
---
A world authority in household management and butlering, CHARLES MacPHERSON is the founder of Charles MacPherson Associates Inc., North America's only registered school for butlers and household managers. He brings over 30 years of experience in his field and is the resident butler for The Marilyn Denis Show. Charles has been featured as a columnist in the National Post and in Metro. Visit Charles at www.charlesmacpherson.com.