Doctors and Distillers: The Remarkable Medicinal History of Beer, Wine, Spirits, and Cocktails (Paperback)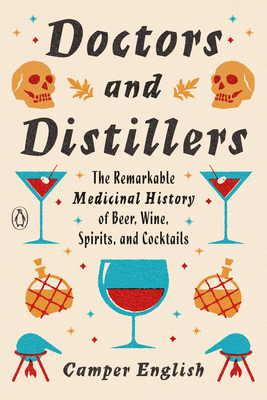 $18.00

Usually Ships in 1-5 Days
Description
---
"At last, a definitive guide to the medicinal origins of every bottle behind the bar! This is the cocktail book of the year, if not the decade." —Amy Stewart, author of The Drunken Botanist and Wicked Plants

"A fascinating book that makes a brilliant historical case for what I've been saying all along: alcohol is good for you…okay maybe it's not technically good for you, but [English] shows that through most of human history, it's sure beat the heck out of water." —Alton Brown, creator of Good Eats

Beer-based wound care, deworming with wine, whiskey for snakebites, and medicinal mixers to defeat malaria, scurvy, and plague: how today's tipples were the tonics of old.

Alcohol and Medicine have an inextricably intertwined history, with innovations in each altering the path of the other. The story stretches back to ancient times, when beer and wine were used to provide nutrition and hydration, and were employed as solvents for healing botanicals. Over time, alchemists distilled elixirs designed to cure all diseases, monastic apothecaries developed mystical botanical liqueurs, traveling physicians concocted dubious intoxicating nostrums, and the drinks we're familiar with today began to take form. In turn, scientists studied fermentation and formed the germ theory of disease, and developed an understanding of elemental gases and anesthetics. Modern cocktails like the Old-Fashioned, Gimlet, and Gin and Tonic were born as delicious remedies for diseases and discomforts. In Doctors and Distillers, cocktails and spirits expert Camper English reveals how and why the contents of our medicine and liquor cabinets were, until surprisingly recently, one and the same.
About the Author
---
Camper English is a cocktails and spirits writer and speaker who has covered the craft cocktail renaissance for over 15 years, contributing to more than 50 publications around the world including Popular Science, Saveur, Details, Whisky Advocate, and Drinks International. With a focus on the nerdy side of mixology, he has studied everything from the history of carbonation to the science of clear ice cubes. He has been awarded International Cognac Writer of the Year by the Bureau National Interprofessionnel du Cognac and Best Cocktail Writer at the Tales of the Cocktail Spirited Awards, and he has been voted as one of the 100 most influential people in the global drinks industry for several years running. His website is Alcademics.com.
Praise For…
---
A 2023 Tales of the Cocktail Spirited Awards Top 10 Nominee

"At last, a definitive guide to the medicinal origins of every bottle behind the bar! From prehistoric beer to exotic French liqueurs, a swig of alcohol has always served as tonic and treatment. With a cocktail nerd's love of obscure ingredients and a passion for odd historical details, Camper English illuminates the murky, confounding, and even grotesque history of booze as medicine. This is the cocktail book of the year, if not the decade." —Amy Stewart, author of The Drunken Botanist and Wicked Plants

"Mr. English has written a fascinating book that makes a brilliant historical case for what I've been saying all along: alcohol is good for you…okay maybe it's not technically good for you, but he shows that through most of human history, it's sure beat the heck out of water." —Alton Brown, creator of Good Eats

"A cheerfully informative highlights tour — the literary equivalent of a bowl of tasty bar snacks to consume between sips of social history . . . English's inclusion of previous pandemic practices gives Doctors and Distillers an extra dose of insight into human nature." —The New York Times Book Review

"A rollicking, quirky story of alcohol and medicine's 'inextricably intertwined history,' from ancient Greek health treatises on wine to elixirs concocted by medieval monks to blood donors in Ireland receiving a pint of Guinness to American snake-oil salesmen making wildly false health claims about alcoholic tinctures, liniments and tonics to early-20th-century soda fountains where you could buy laudanum and soda spiked with cocaine." —Washington Post

"With immense wit and charm, author Camper English traces millennia to explore how civilizations used fermented and distilled beverages to do everything from hydrating the workforce to fending off the Black Death. English takes a tongue-in-cheek approach to his subject matter, resulting in wildly compelling stories, such as how Buckfast, a tonic wine created by monks to treat colds and influenza, became the 'U.K.'s version of Four Loko.' It is every bit as entertaining as it is educational." —Scientific American

"Doctors and Distillers, Camper English's exploration of the medicinal history of libations, is jam-packed with factoids about the history of distilling and medicine and arranged in thematic and roughly chronological order. The writing is lively and accessible, easily enjoyed by a medical anthropologist, home mixologist, or seasoned bartender." —Science Magazine

"Camper English is the booze writer's booze writer—the one we all turn to for true histories, unassailable facts, and clarity (of both explanation and ice). Doctors and Distillers puts his magnificent brain on full display, laying out the coiled-together histories of drinking and medicine. Every page has at least three "wait, I didn't know that!" moments, and the bibliography will launch 1,000 magazine-article history sections. I might actually need two copies—one for my reference shelf and one for my bar." —Adam Rogers, author of Proof: The Science of Booze and Full Spectrum: How the Science of Color Made Us Modern

"Doctors and Distillers is an eye-opening compendium of the unlikely, often dodgy, always colorful alchemical-medicinal backstories of alcohols in all their stupefying variety: it'll bring a little something extra to whatever you sip." —Harold McGee, author of On Food and Cooking and Nose Dive

"I must tell you that I fully believe that fermentation is actually magic. At the very least I think we can all agree that alcoholic drinks, properly administered by a judicious hand, can be medicine. Dive into these pages and you will learn the raucous and unlikely true tale of how every alcoholic drink from beer, wine, and bitters to the vanished and banned cocaine drinks of the 19th century, were once thought to banish all manner of ills. Better yet, you'll be grandly entertained. I predict that by the last page you'll find yourself feeling oddly...better." —Garrett Oliver, editor in chief, The Oxford Companion to Beer and Brewmaster of The Brooklyn Brewery

"When the Roman philosopher Seneca wrote that "reading nourishes the intellect and study banishes fatigue," I'm pretty sure he was thinking about Doctors and Distillers, or at least would have been if he'd stuck around to read it. In any case, Mr. English has written as an instructive and entertaining a book as I can conceive." —David Wondrich, editor in chief, The Oxford Companion to Spirits and Cocktails

"Equal parts science textbook and historical narrative, Doctors and Distillers is a beautifully researched and thoroughly engaging trip through the story of some of our most beloved libations." —Jeffrey Morgenthaler, author of The Bar Book and Drinking Distilled

"Camper has always written with the rare combination of eye-opening insight and delightful wit, and in Doctors and Distillers he outdoes himself masterfully. A globe-spanning and impeccably researched work that reaches deep into humanity's relationship with alcohol, this is no dry textbook — Doctors and Distillers pulls the veneer off of subjects clouded in mystery and hyperbole, exposing the history of beer, wine, spirits and cocktails as critical in understanding modern health, medicine, and our persistent human desire to understand the universe and our place in it. Dive in and explore, but don't forget to first grab a shaker and mix up one of the delicious cocktail recipes sprinkled throughout — it's good for you, after all!" —Alex Day, partner at Death & Co and author of Death & Co, Cocktail Codex, and Death & Co Welcome Home

"Want a prescription of gin, whiskey, beer, or cocaine? Well, you'll need to travel back in time for these doctor-given elixirs. And that's exactly what Camper English does in Doctors and Distillers. He beautifully tells the story of how alcohol kept the world healthy and provides recipes for you to make at home. You know, just in case you get a case of 1800s-era hay fever." —Fred Minnick, author of Whiskey Women, Bourbon Curious, and Bourbon: The Rise, Fall, and Rebirth of an American Whiskey

"A boozy and breezy romp through medical history, Doctors and Distillers is an intoxicating read. Buy two copies: one for your bar and one for your bookshelf." —Nate Pedersen, co-author of Quackery: A Brief History of the Worst Ways to Cure Everything

"Channeling the witty satire of Mencken, to-the-point prose of Hemingway, and unsentimental wit of Embury, spirits writer Camper English overlays meticulously researched histories of medicine, spirits, and mixology, revealing eyebrow-raising insights about the cultural context that informed each field's advance chronologically. Unlike muckraker Upton Sinclair's confession about The Jungle, "I aimed at the public's heart, and by accident I hit it in the stomach", English aims at our stomachs, and gets to the heart of the inseparable relationship between spirits, mixed drinks and medicine dating back to antiquity." —Jim Meehan, author of Meehan's Bartender Manual and The PDT Cocktail Book

"You can tell from the six-page bibliography how deeply cocktail and spirits writer Camper English researched his new book, which touches on the interconnectedness of bartender and pharmacist, and how drinking to one's health reverberates throughout history. English reveals the medicinal origins of many liquor brands, with drink recipes also provided. He makes it clear that this book is not a resource for elixirs to cure ailments, but, rather, shows how 'healthy' cocktails often have been part of the zeitgeist. His advice: 'If you need medicine, talk to your doctor. If you need a cocktail, see your local mixologist.'" —Atlanta Journal-Constitution