Moral Tribes: Emotion, Reason, and the Gap Between Us and Them (Paperback)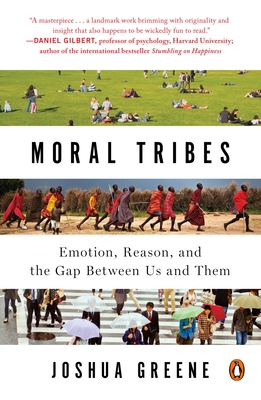 List Price: $20.00
Our Price: $18.00
(Save: $2.00 10%)
Description
---
"Surprising and remarkable…Toggling between big ideas, technical details, and his personal intellectual journey, Greene writes a thesis suitable to both airplane reading and PhD seminars."—The Boston Globe

Our brains were designed for tribal life, for getting along with a select group of others (Us) and for fighting off everyone else (Them). But modern times have forced the world's tribes into a shared space, resulting in epic clashes of values along with unprecedented opportunities. As the world shrinks, the moral lines that divide us become more salient and more puzzling. We fight over everything from tax codes to gay marriage to global warming, and we wonder where, if at all, we can find our common ground.

A grand synthesis of neuroscience, psychology, and philosophy, Moral Tribes reveals the underlying causes of modern conflict and lights the way forward. Greene compares the human brain to a dual-mode camera, with point-and-shoot automatic settings ("portrait," "landscape") as well as a manual mode. Our point-and-shoot settings are our emotions—efficient, automated programs honed by evolution, culture, and personal experience. The brain's manual mode is its capacity for deliberate reasoning, which makes our thinking flexible. Point-and-shoot emotions make us social animals, turning Me into Us. But they also make us tribal animals, turning Us against Them. Our tribal emotions make us fight—sometimes with bombs, sometimes with words—often with life-and-death stakes. 

A major achievement from a rising star in a new scientific field, Moral Tribes will refashion your deepest beliefs about how moral thinking works and how it can work better.
About the Author
---
JOSHUA GREENE is the John and Ruth Hazel Associate Professor of the Social Sciences and the director of the Moral Cognition Lab in Harvard University's Department of Psychology. His research has been supported by the National Science Foundation, the National Institutes of Health, and the MacArthur Foundation. Greene has appeared on Charlie Rose and Scientific American Frontiers, and his work has been featured in the New York Times, Discover Magazine, WNYC's RadioLab, and NPR's Morning Edition.
Praise For…
---
Robert Wright, The Atlantic:
"[Greene's] concern is emphatic, his diagnosis precise, and his plan of action very, very ambitious. The salvation of humankind is possible, but it's going to take concerted effort… [a] rich, sprawling book."

The Boston Globe:
"Surprising and remarkable… Toggling between big ideas, technical details, and his personal intellectual journey, Greene writes a thesis suitable to both airplane reading and PhD seminars… Moral Tribes offers a psychology far beyond the realm of self-help, instead probing the intricacy and complexity of morality in an attempt to help, and perhaps unite, entire communities."

Robert M. Sapolsky, The Wall Street Journal:
"Superb."

Christian Perring, Metapsychology:
"More interesting than its defense of Utilitarianism is the fact that Moral Tribes is one of the first attempts to bring experimental philosophy to a wider audience. Making technical philosophy accessible to a wider group is something that academic philosophers have not done enough. Greene provides a fascinating glimpse of what it might be to do scientifically informed moral philosophy."

Sasha Pfeiffer and Anthony Brooks, WBUR:
"Joshua Green has a fascinating new book about how we make moral decisions. With a deep knowledge of philosophy and using brain scan science, the Harvard psychologist probes some big questions. Questions like why is it we're capable of putting the welfare of our communities above our own personal welfare?  In other words we're pretty good at making tribal life work, but then why do groups of people: sports fans, political partisans, religious believers, Americans, have so much trouble getting along with other groups? The question is hugely important in this modern world when conflicts among political parties, religious faiths and nations have dramatic consequences. It's at the core of Joshua Greene's new book."

Thomas Nagel, New Republic:
"Joshua Greene, who teaches psychology at Harvard, is a leading contributor to the recently salient field of empirical moral psychology. This very readable book presents his comprehensive view of the subject, and what we should make of it. Greene offers much more experimental detail and some ingenious psychological proposals about why our gut reactions have the particular subtle contours that they do."

Publishers Weekly:
"With a humorous, relaxed tone, Greene stacks piles of evidence from well-researched studies onto his theory of modern-day morality. Having spent most of his academic career on the study of morality, Greene foresees the questions his readers have and systematically addresses every doubt and concern. As he mixes 20th-century philosophical moral treatises with neuroscience and psychological studies—many of which were undertaken by his colleagues in the field of moral psychology—Greene's role as educator shines through; his writing is clear and his examples simple yet intriguing."

Vanessa Bush, Booklist:
"Greene's strategies for examining moral reasoning are as applicable to day-to-day decisions as they are to public policy. This is a highly accessible look at the complexities of morality."

Kirkus Reviews:
"A provocative, if Utopian, call for a new 'common currency of observable evidence…not to gain advantage over others, but simply because it's good.'"

Daniel Gilbert, professor of psychology, Harvard University; author of the international bestseller Stumbling on Happiness:
"Joshua Greene is the rarest of birds—a brilliant scientist and equally brilliant philosopher who simultaneously takes on the deepest problems of both disciplines. More than a decade in the making, Moral Tribes is a masterpiece—a landmark work brimming with originality and insight that also happens to be wickedly fun to read. The only disappointing thing about this book is that it ends."

Robert Sapolsky, John A. and Cynthia Fry Gunn Professor of Biological Sciences, Stanford University:
"A decade ago, the wunderkind Joshua Greene helped start the field of moral neuroscience, producing dazzling research findings. In this equally dazzling book, Greene shows that he is also one of the field's premier synthesists. Considerable progress has been made in solving the classic problem of how to get individuals within a group to start cooperating. Greene takes on an even bigger problem—how to foster cooperation between groups, groups with deeply felt morals and values, but with different morals and values. There are few more important issues to solve in our increasingly pluralistic world, and this beautifully written book is a step in that direction."

Peter Singer, professor of bioethics, Princeton University:
"Over the past decade, Greene's groundbreaking research has helped us understand how people judge right and wrong. Now, in this brilliant and enlightening book, he draws on his own research and that of many others to give a more complete picture of our differences over moral issues. But the significance of this book goes far beyond that. Greene suggests a common moral currency that can serve as a basis for cooperation between people who are otherwise deeply divided on matters of morality. If our planet is to have a peaceful and prosperous future such a common moral currency is urgently needed. This book should be widely read and discussed."

Steven Pinker, Harvard College Professor of Psychology, Harvard University; author of How the Mind Works and The Better Angels of Our Nature:
"After two and a half millennia, it's rare to come across a genuinely new idea on the nature of morality, but in this book Joshua Greene advances not one but several. Greene combines neuroscience with philosophy not as a dilettante but as an expert in both fields, and his synthesis is interdisciplinary in the best sense of using all available conceptual tools to understand a deep phenomenon. Moral Tribes is a landmark in our understanding of morality and the moral sense."