Machine Learning in Bio-Signal Analysis and Diagnostic Imaging (Paperback)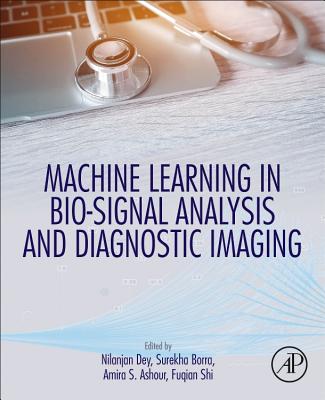 Description
---
Machine Learning in Bio-Signal Analysis and Diagnostic Imaging presents original research on the advanced analysis and classification techniques of biomedical signals and images that cover both supervised and unsupervised machine learning models, standards, algorithms, and their applications, along with the difficulties and challenges faced by healthcare professionals in analyzing biomedical signals and diagnostic images. These intelligent recommender systems are designed based on machine learning, soft computing, computer vision, artificial intelligence and data mining techniques. Classification and clustering techniques, such as PCA, SVM, techniques, Naive Bayes, Neural Network, Decision trees, and Association Rule Mining are among the approaches presented.
The design of high accuracy decision support systems assists and eases the job of healthcare practitioners and suits a variety of applications. Integrating Machine Learning (ML) technology with human visual psychometrics helps to meet the demands of radiologists in improving the efficiency and quality of diagnosis in dealing with unique and complex diseases in real time by reducing human errors and allowing fast and rigorous analysis. The book's target audience includes professors and students in biomedical engineering and medical schools, researchers and engineers.
About the Author
---
Nilanjan Dey received his Ph. D. Degree from Jadavpur University, India, in 2015. He is an Assistant Professor in the Department of Information Technology, Techno India College of Technology, Kolkata, W.B., India. He holds an honorary position of Visiting Scientist at Global Biomedical Technologies Inc., CA, USA and Research Scientist of Laboratory of Applied Mathematical Modeling in Human Physiology, Territorial Organization of- Scientific and Engineering Unions, Bulgaria. Associate Researcher of Laboratoire RIADI, University of Manouba, Tunisia. His research topic is Medical Imaging, Data mining, Machine learning, Computer Aided Diagnosis, Atherosclerosis etc. He is the Editor-in-Chief of International Journal of Ambient Computing and Intelligence (IGI Global), US, International Journal of Rough Sets and Data Analysis (IGI Global), US, the International Journal of Synthetic Emotions (IGI Global), US, (Co-EinC) and International Journal of Natural Computing Research (IGI Global), US. Series Editor (Co.) of Advances in Ubiquitous Sensing Applications for Healthcare (AUSAH), Elsevier, Advances in Geospatial Technologies (AGT) Book Series, (IGI Global), US, Executive Editor of International Journal of Image Mining (IJIM), Inderscience, Associated Editor of IEEE Access and International Journal of Information Technology, Springer. He has 20 books and more than 200 research articles in peer-reviewed journals and international conferences. He is the organizing committee member of several international conferences including ITITS, W4C, ICMIR, FICTA, ICICT.