Bowlaway: A Novel (Hardcover)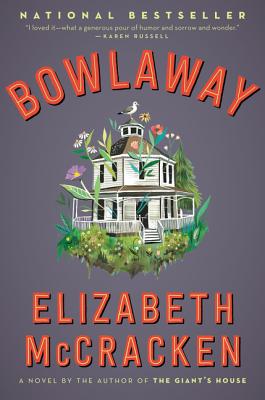 Staff Reviews
---
This is a big ambitious book—over a dozen characters with complete story arcs—that never looses its sense of wonder. About, you know, candlepin bowling. McCracken is one of my favorite writers, so I went into this book with high expectations. I'm happy to report that I that I was blown-away. The characters here are so rich and well fleshed out, and the writing is so beautiful, I had to decide to stop marking passages I liked, or I'd never get through the book. I loved this book.
— Wayne
February 2019 Indie Next List
---
"At the turn of the 20th century, Bertha Truitt is found lying unconscious in a frosty New England cemetery with no explanation of how she arrived there and a past she is unwilling to talk about. In a bag by her side are a corset, a bowling ball, one candlepin, and 15 pounds of gold. Thus begins a story of love, bowling, and how Bertha Truitt would influence the town of Salford and its residents for generations to come. Elizabeth McCracken once again brings us superb storytelling that shows how our lives don't always follow a straight line to where we thought we might be going."
— Jessie Martin, Nicola's Books, Ann Arbor, MI
Winter 2019 Reading Group Indie Next List
---
"What a big, sprawling novel this is. It reads like an anecdotal history of a bowling alley, and the family who starts it, grows with it, and feels trapped by it. It's about the farthest branches of a family tree and the stories we tell about them. But the best part is McCracken's writing—every few pages a line or a passage will sneak up on you and knock your socks off."
— Tyler Goodson, Avid Bookshop, Athens, GA
Description
---
NATIONAL BESTSELLER
A Recommended Book of the Year from
NPR * Entertainment Weekly * O, The Oprah Magazine * The Washington Post * Southern Living * BBC * Huffington Post * Lit Hub * Kirkus * Bustle * Publishers Weekly * BookRiot * Popsugar * Bookish * The Boston Globe * The Seattle Times * Vulture * Real Simple * Good Housekeeping * Refinery29
A sweeping and enchanting new novel from the widely beloved, award-winning author Elizabeth McCracken about three generations of an unconventional New England family who own and operate a candlepin bowling alley

From the day she is discovered unconscious in a New England cemetery at the turn of the twentieth century—nothing but a bowling ball, a candlepin, and fifteen pounds of gold on her person—Bertha Truitt is an enigma to everyone in Salford, Massachusetts. She has no past to speak of, or at least none she is willing to reveal, and her mysterious origin scandalizes and intrigues the townspeople, as does her choice to marry and start a family with Leviticus Sprague, the doctor who revived her. But Bertha is plucky, tenacious, and entrepreneurial, and the bowling alley she opens quickly becomes Salford's most defining landmark—with Bertha its most notable resident.
When Bertha dies in a freak accident, her past resurfaces in the form of a heretofore-unheard-of son, who arrives in Salford claiming he is heir apparent to Truitt Alleys. Soon it becomes clear that, even in her death, Bertha's defining spirit and the implications of her obfuscations live on, infecting and affecting future generations through inheritance battles, murky paternities, and hidden wills.
In a voice laced with insight and her signature sharp humor, Elizabeth McCracken has written an epic family saga set against the backdrop of twentieth-century America. Bowlaway is both a stunning feat of language and a brilliant unraveling of a family's myths and secrets, its passions and betrayals, and the ties that bind and the rifts that divide. 
About the Author
---
Elizabeth McCracken is the author of seven books, including The Souvenir Museum, Bowlaway, Thunderstruck & Other Stories (winner of the 2014 Story Prize and long-listed for the National Book Award), and The Giant's House (a National Book Award finalist). Her stories have appeared in Best American Short Stories, won three Pushcart Prizes, a National Magazine Award, and an O. Henry Prize. She has served on the faculty at the Iowa Writers' Workshop and currently holds the James Michener Chair for Fiction at the University of Texas at Austin.
Praise For…
---
"Wildly entertaining... [A] wonderfully unpredictable multi-generational saga which revolves around a Massachusetts bowling alley.... Bowlaway celebrates the oddest of oddballs and the freakiest of freak accidents with wit and heart. To read McCracken's inimitably clever sentences and follow her quirky narrative twists is to be constantly delighted." — NPR
"Death and life, frosted with macabre comedy.... [McCracken] lures us in with her witty voice and oddball characters but then kicks the wind out of us. She never misses the infamous 7-10 split, managing to hit Annie Proulx and Anne Tyler with the same ball.... Endlessly surprising." — Washington Post
"An oddball masterpiece.... Elizabeth McCracken holds a funhouse mirror up to the Great American Novel. Whimsy and weirdness spark at Bowlaway's edges.... This is McCracken's masterpiece, a story of reinvention.... The author has reframed the family saga for the misfit: that truest American character." — Entertainment Weekly
"McCracken's newest novel, a 20th-century family epic centered on candlepin bowling, is populated by strange, excellent characters, and unfolds with all the offbeat coziness and heartache of a great American fable: molasses floods, workplace fires, surprising heirs, and all." — Vanity Fair
"[McCracken has] considerable gifts as a novelist [and] instinctive access to the most intricate threads of human thought and feeling.... This novel's cast grows epic, but McCracken is always most impressive when she works small, when she is describing movie kisses or corsets or simply loneliness and longing." — New York Times
"Bowlaway is that most improbable of literary phenomena: a buoyant, joyful, rollicking yarn of sadness and loss.... McCracken's gloriously vibrant and boisterously surprising narrative voice is one of the great triumphs of Bowlaway.... Reminiscent of John Irving, with echoes of Dickens.... A tour de force." — Boston Globe
"Reading Elizabeth McCracken—the gorgeously-put-together sentences parading the pages like models on a Paris runway; the crazy, original insights; the definitive, wholly fictional pronouncements—is like going on an automotive safari. . . . I could not stop reading." — Newsday
"McCracken's delightful prose and rich historical details make this the perfect book to get lost in." — Real Simple
"Every now and then, a novel reinvents the language of storytelling in dazzling ways.... A comic marvel... The master stylist uses the offbeat lilt of fairy tales to spin a quintessentially New England saga.... Rolls a strike right through the heart of the American epic." — O, the Oprah Magazine
"Whimsical, enchanting.... The sort of novel with which you fall in love.... Every page seems to provide the kind of writing that makes a reader stop cold, savoring the moment…. [Bowlaway] takes your hand and hurries you into an inviting, curious world, leaving you happily bereft at its end." — Seattle Times
"Bowlaway snatches up every individual that finds joy or tragedy in proximity to the bowling alley and allows them to be observed tenderly and precisely.... McCracken's love of language is the catching kind.... In Bowlaway, the journey through McCracken's lush, piercing prose is the destination." — Austin Chronicle
"In an enthralling, magical story that spans generations, award-winning writer McCracken imbues a candlepin alley with the ability to bowl over sexism." — Ms. magazine
"People who don't yet know the work of Elizabeth McCracken, prepare for delight.... "Bowlaway" spirits readers into an astonishing world.... McCracken's prose—canny wisdom laid on in swaths of fearless, quirky, galvanizing language—gives consistent joy. Almost every page glitters with quotable treasure.... [A] finely wrought, moving saga." — San Francisco Chronicle
"[A] strange and brilliant tale." — Philadelphia Inquirer
"Elizabeth McCracken marries the everyday with the otherworldly. Her electrifying voice brings to life a cast of bizarre characters who lean on, help and flee one another.... Heartbreaking and beautiful.... Bowlaway is an epic of the wins and losses that make up the average life." — Paste Magazine
"If you think 100 years is an awful lot of time to spend in a small, family-owned and operated bowling alley, think again. In fact, bowling offers the perfect narrative arc.... [McCracken writes,] 'Turn the page!' Believe me, you will." — Bustle
"A story equal parts sorrow and wonder, magical realism and cold, hard reality....  McCracken's gift is to deliver that pain wrapped in astounding sentences and characters who leap off the page.... The book is best read pen in hand, ready to underline standout sentences."  — Texas Observer
"Wonderful and weird.... For fans of Elizabeth Strout and Fredrik Backman, Bowlaway, much like Bertha Truitt, is just kooky and charming enough to work." — PureWow
"It's impossible not to fall under McCracken's spell. Bowlaway is a rare treasure, a perfect and precious gift." — Nashville Scene
"Elizabeth McCracken's Bowlaway is so deliciously weird and wise and alive. It's a page-turner set in a bowling alley, a grief-haunted and hope-raddled book, and a gloriously fresh paean to the 'perversity of love.' I loved it—what a generous pour of humor and sorrow and wonder." — Karen Russell
"McCracken has one of the more distinctive literary sensibilities readers will likely encounter; playful, inventive, and fearless, she's drawn to oddball characters and the eccentric fringes of American family life.... A playful, powerful meditation on the proposition that life itself is strange." — Library Journal (starred review)
""To tell a good tale, you need drama—and in this area, Bowlaway spares no expense.... McCracken's prose is well-tooled, hilarious and tender, thoughtful and jocular. Her characters inhabit their world so completely, so bodily, that they could've truly existed." — BookPage (starred review)
"[McCracken] is a beloved bard of the eccentric.... McCracken writes with exuberant precision, ingenious lyricism, satirical humor, and warmhearted mischief and delight.... This compassionate and rambunctious saga about love, grief, prejudice, and the courage to be one's self chimes with novels by John Irving, Audrey Niffenegger, and Alice Hoffman. — Booklist (starred review)
"Stellar.... McCracken writes with a natural lyricism that sports vivid imagery and delightful turns of phrase. Her distinct humor enlivens the many plot twists that propel the narrative, making for a novel readers will sink into and savor." — Publishers Weekly (starred review)
"McCracken understands the vast variety of ways to be human. . . . Parents and children, lovers, brothers and sisters, estranged spouses, work friends and teammates all slam themselves together and fling themselves apart across the decades in the glorious clatter of McCracken's unconventional storytelling." — Kirkus Reviews (starred review)