The Healer (Hardcover)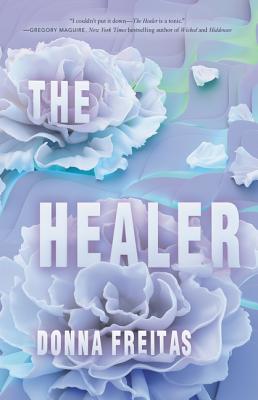 $17.99
Usually Ships in 1-5 Days
Description
---
A gorgeous and heartrending novel about love, family, and faith, perfect for fans of Laura Ruby, John Corey Whaley, and Jandy Nelson.
Marlena Oliveira has—mysteriously, miraculously—been given the power to heal all kinds of ailments. People around the world believe she is a saint. But it all comes at a price. Because of her power, she'll never be able to live a normal life. And the older she gets, the more trapped she feels.
Then she meets Finn, a boy who makes her want to fall in love. For the first time, she begins to doubt her power—and herself. Is her gift worth all she must give up to keep it? And who would—or could—she be without it?
"I couldn't put it down—The Healer is a tonic."—Gregory Maguire, New York Times bestselling author of Wicked and Hiddensee
About the Author
---
Donna Freitas is the author of the Unplugged series as well as several other young adult and middle grade novels. Donna is also a professor at Fairleigh Dickinson's MFA program and at Hofstra's Honors College. She lives in Brooklyn, New York. You can visit her online at www.donnafreitas.com.
Praise For…
---
"If one takes 'physician, heal thyself' to a metaphysical level, one begins to approximate the keen depiction of adolescent escape and self-rescue that Donna Freitas so beautifully gives us in The Healer. I couldn't put it down. It's a tonic."
— Gregory Maguire, New York Times bestselling author of Wicked and Hiddensee

"The Healer is utterly engrossing. Written with poetry and passion, it explores the longing to believe and the sacrifices we make for love. There is beauty and mystery in this amazing book, but no easy answers. The Healer is, itself, a miracle."
— Patricia McCormick, two-time National Book Award finalist and author of Sold and Cut

"The Healer is a poignant and passionate story of love, faith, loss, betrayal--and redemption. ​Marlena is a character who jumps off the page and into your heart, where she stays long after you've finished reading."
— Deborah Heiligman, author of Vincent and Theo and Charles and Emma

"The Healer is a beautifully written, intensely romantic book that will tear at your heart and make you question the world. Anyone who loves The Fault in Our Stars and Everything, Everything will adore this book."
— Marie Rutkoski, New York Times bestselling author of The Winner's Trilogy

"Donna Freitas has crafted a beautiful and moving account of young love in extraordinary circumstances. A fascinating exploration of the ties that bind us to family and lovers, and the freedom that comes from discovering one's own power."
— Eliot Schrefer, National Book Award finalist for Threatened and Endangered

"Marlena is a brilliant character--her voice is hypnotic, insightful, funny, and passionate. In response to the big, unanswerable questions, Donna Freitas has written a beautiful and inspired story."
— René Steinke, author of Friendswood and National Book Award Finalist Holy Skirts

"Readers will be left reflecting. Intense."
— Kirkus Reviews

"[The Healer] shows how divinity is accessible to everyone through the power of love."
— Booklist

"The themes of faith and forgiveness are strong, and Freitas makes a solid argument that spiritualism and science are not necessarily mutually exclusive."
— Bulletin of the Center for Children's Books

"With a deep sense of longing and a beautiful coming-of-age undercurrent, Freitas presents a stark and emotional tale. This delicately crafted, heartfelt novel speaks to the rewards and challenges of creating one's own identity."
— Publishers Weekly