In This Grave Hour (Maisie Dobbs Mysteries) (Compact Disc)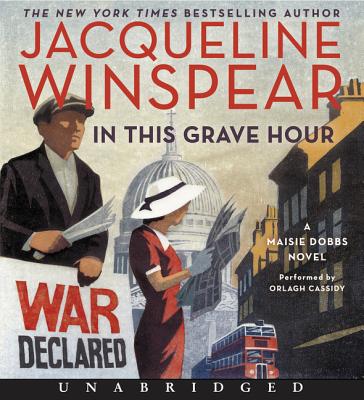 Description
---
As Britain becomes engulfed in a second World War, the indomitable Maisie Dobbs is plunged into a treacherous battle of her own when she stumbles on the deaths of refugees who may have been more than ordinary people seeking sanctuary on English soil, in this enthralling chapter in Jacqueline Winspear's enormously popular New York Times bestselling series.
Critics have long sung the praises of Jacqueline Winspear and her bestselling Maisie Dobbs series. In the thirteenth installment, Maisie--"one of the great fictional heroines, equal parts haunted and haunting." (Parade)--is back with more mystery, adventure, and psychological insight.
When readers last saw Maisie Dobbs, it was 1938 and the world was on the brink of war. Maisie herself was on a dangerous mission inside Nazi Germany, where she encountered an old enemy and the Fuhrer himself. In This Grave Hour, a year has passed and Maisie is back home in England--yet neither she nor her nation is safe. Britain has just declared war on Germany and is mobilizing for the devastating battle ahead. But when she stumbles on the deaths of a group of refugees, Maisie suspects the enemy may be closer than anyone knows.
Old fans will be delighted at Maisie's return and new readers will be hooked by this thrilling installment in Jacqueline Winspear's "thoughtful, probing series" (Oprah.com).