Song of the Lion (A Leaphorn, Chee & Manuelito Novel #3) (Large Print / Paperback)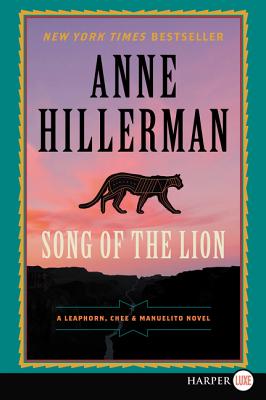 $29.99

Usually Ships in 1-5 Days
Other Books in Series
This is book number 3 in the A Leaphorn, Chee & Manuelito Novel series.
Description
---
New York Times Bestseller
"Fans of Leaphorn, Chee, and Manuelito, characters created by the author's father, Tony Hillerman, will savor this multilayered story of suspense, with its background of contemporary environmental vs. development issues." — Library Journal
A deadly bombing takes Navajo Tribal cops Bernadette Manuelito, Jim Chee, and their mentor, the legendary Lieutenant Joe Leaphorn, back into the past to find a vengeful killer in this riveting Southwestern mystery from the bestselling author of Spider Woman's Daughter and Rock with Wings.
When a car bomb kills a young man in the Shiprock High School parking lot, Officer Bernadette Manuelito discovers that the intended victim was a mediator for a multi-million-dollar development planned at the Grand Canyon.
But what seems like an act of ecoterrorism turns out to be something far more nefarious. Piecing together the clues, Bernadette and her husband, Sergeant Jim Chee, uncover a scheme to disrupt the negotiations and inflame tensions between the Hopi and Dine tribes.
Retired Lieutenant Joe Leaphorn has seen just about everything in his long career. As the tribal police's investigation unfolds, he begins to suspect that the bombing may be linked to a cold case he handled years ago. As he, Bernadette, and Chee carefully pull away the layers behind the crime, they make a disturbing discovery: a meticulous and very patient killer with a long-simmering plan of revenge.
Writing with a clarity and grace that is all her own, Anne Hillerman depicts the beauty and mystery of Navajo Country and the rituals, myths, and customs of its people in a mystery that builds on and complements the beloved, bestselling mysteries of her acclaimed father, Tony Hillerman.
About the Author
---
Anne Hillerman grew up with the stories her father, New York Times bestselling author Tony Hillerman, brought home from his work as a journalist and later as a fiction writer. His storytelling and a deep love of reading inspired by both her parents led Anne to own career as a journalist and nonfiction writer. After Tony's death in 2008, Anne felt the loss of his beloved characters as deeply as his fans did. His fans' passion for those stories inspired her to give Tony's characters a second chance at life and to develop one of his minor characters, Bernie Manuelito, into a central protagonist. Stargazer is her sixth novel and the twenty-fourth in the Leaphorn, Chee & Manuelito series."

Praise For…
---
"Fans of Leaphorn, Chee, and Manuelito, characters created by the author's father, Tony Hillerman, will savor this multilayered story of suspense, with its background of contemporary environmental vs. development issues."
— Library Journal

"Though seasoned mystery readers may guess the perpetrator before the tense denouement, the book offers insights on the strength of family ties and the possibilities of redemption after a history of pain."
— Publishers Weekly

"The latest from Hillerman continues worldbuilding in a tale that will reward long-term readers."
— Kirkus Reviews

"Hillerman seamlessly blends tribal lore and custom into a well-directed plot, continuing in the spirit of her late father, Tony, by keeping his characters (like Chee) in the mix, but still establishing Manuelito as the main player in what has become a fine legacy series."
— Booklist

"Song of the Lion offers more than a good read, a well-crafted Southwestern mystery, [and] an exciting glimpse of a widely varied population in a beautiful landscape with layers of history, blood, land, and water issues…It will take the reader on a journey to an unshakeable, soul-deepening, life- enhancing awareness."
— Midwest Book Review