Literally (Paperback)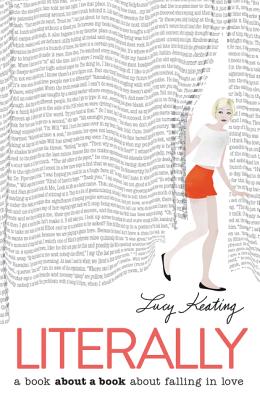 Description
---
From the author of Dreamology comes a young adult love story that blurs the line between reality and fiction…
Annabelle's life has always been Perfect with a capital P. Then bestselling young adult author Lucy Keating announces that she's writing a new novel—and Annabelle is the heroine.
It turns out that Annabelle is a character that Lucy Keating created. And Lucy has a plan for her. 
But Annabelle doesn't want to live a life where everything she does is already plotted out. Will she find a way to write her own story—or will Lucy Keating have the last word? 
The real Lucy Keating's delightful contemporary romance is the perfect follow-up for readers who loved her debut novel, which School Library Journal called "a sweet, quirky romance with appealing characters."
About the Author
---
Lucy Keating is a New Englander who fell in love with California and now splits her time between Venice Beach and San Francisco. When she's not writing, Lucy is probably walking her dog, listening to music, or eating ice cream. One of these things is almost always true, and on a particularly great day, all are true. She is the author of Dreamology and Literally. Visit Lucy at www.lucykeating.com.
Praise For…
---
"This festival of metafictive fun should particularly appeal to budding novelists." — Kirkus Reviews
"Keating inserts a fictional version of herself into her entertaining second novel. Avid readers will enjoy the playful suggestion that although characters are inventions of their authors, they also take on lives of their own." — Publishers Weekly
"This whimsical novel is a light, satisfying read, full of humor and tidbits about the writing process and publishing world that any youth interested in writing will enjoy...For readers who want to be entertained while discovering that life can only be truly lived when you take control." — Voice of Youth Advocates (VOYA)
"Short, sweet, and brazenly meta....cleverly and at times hilariously playing with YA romance tropes and its own self-awareness....A quirky little love story." — ALA Booklist
"In Keating's fun and whimsical voice, the book questions how much of our life we really want plotted out, and how much we'd like our story to be purely ours." — Brightly
Praise for Dreamology: "This is a sweet, quirky romance with appealing characters and loving descriptions of Boston landmarks…Keating is particularly good at capturing the surreal nature of dreams. Give this one to fans of Jenny Han and YA romance." — School Library Journal
"A fun spin on contemporary romance." — Voice of Youth Advocates (VOYA)
"Alice is a fun, sarcastic heroine, and readers will be more than happy to join her on her journey both in and out of dreams." — ALA Booklist