When Spring Comes (Hardcover)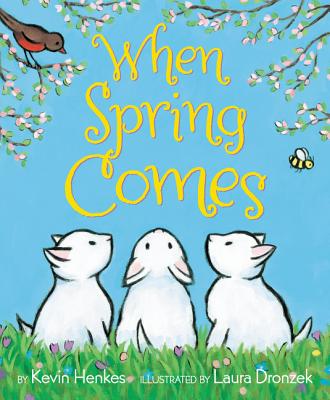 $17.99
Usually Ships in 1-5 Days
Description
---
From Caldecott Medalist and New York Times-bestselling author Kevin Henkes and the acclaimed painter Laura Dronzek, the bestselling and award-winning creators of Winter Is Here and In the Middle of Fall, When Spring Comes is perfect for the very youngest readers. This picture book is an excellent choice to share during homeschooling, in particular for children ages 5 to 7 who are ready to read independently. It's a fun way to keep your child engaged and as a supplement for activity books for children.

Before spring comes, the trees are dark sticks, the grass is brown, and the ground is covered in snow. But if you wait, leaves unfurl and flowers blossom, the grass turns green, and the mounds of snow shrink and shrink.
Spring brings baby birds, sprouting seeds, rain and mud, and puddles. You can feel it and smell it and hear it—and you can read it!
Kevin Henkes uses striking imagery, repetition, and alliteration to introduce basic concepts of language and the changing of the seasons. And Laura Dronzek's gorgeous, lush paintings show the transformation from quiet, cold winter to the joyful newborn spring.
Watch the world transform when spring comes!
About the Author
---
Kevin Henkes is an award-winning author and illustrator of many books for children of all ages. He received the Caldecott Medal for Kitten's First Full Moon; Caldecott Honors for Waiting and Owen; two Newbery Honors—one for Olive's Ocean and one for The Year of Billy Miller—and Geisel Honors for Waiting and Penny and Her Marble. His other books include Egg, Old Bear, A Good Day, Chrysanthemum, and the beloved Lilly's Purple Plastic Purse. Kevin Henkes lives with his family in Madison, Wisconsin. www.kevinhenkes.com
Laura Dronzek is a painter whose work has been exhibited nationally. Her picture books include Moonlight, by Helen V. Griffith; It Is Night, by Phyllis Rowand; and White Is for Blueberry, by George Shannon.
Praise For…
---
"Henkes and Dronzek once again perfectly capture the quiet wonder of the natural world, as they did in Birds and Oh! …Dronzek's vivacious acrylic illustrations, their bright colors emphasized by the thick black outlines, complement Henkes's spare but lyrical prose. A must-have, joyful seasonal title for the youngest listeners."
— School Library Journal (starred review)

"Lyrical and elegant in its simplicity, this is an enchanting celebration of the season to pair with Oh!, the paean to winter created by this same husband-and-wife team."
— Booklist (starred review)

"In a gently rhythmic text and lush, vibrant paintings, this husband-and-wife author-illustrator team ushers in spring, capturing the season's sights, sounds, and surprises. …This joyful reflection is as welcome as spotting the first brave crocus."
— Horn Book (starred review)

"Dronzek's cozy paintings combine the simplified shapes of plants, creatures, and children…Henkes is honest about spring's more trying moments, weaving themes of waiting and patience throughout…Readers, especially those who live in regions that experience the full range of changing seasons, will warm to this catalog of familiar joys."
— Publishers Weekly

"A read-aloud dream, the meticulous text catalogs Spring's awakenings and its characteristic weather. …Dronzek's thick-lined, bright acrylics are as simultaneously wry and joyous as the text…Henkes and Dronzek make waiting almost as much fun—if not more so—than the payoff."
— Kirkus Reviews

"No harm comes to the bunnies, birds and kittens in Laura Dronzek's deliciously colorful paintings for 'When Spring Comes,' a gentle picture book written by Kevin Henkes. …From brown to green, from eggs to birds, from seeds to flowers, seasonal changes transpire sweetly in these pages."
— Wall Street Journal

"Henkes creates a childlike and child-friendly cadence with the rhythms of his writing, and the robust, thickly outlined art carries plenty of kid appeal as well. …Expect this to see heavy use in classrooms and library story hours."
— Bulletin of the Center for Children's Books