Trinity (Mass Market)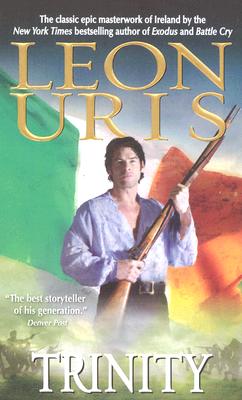 Description
---
Leon Uris's beloved Irish classic, available in Avon mass market.
From the acclaimed author who enthralled the world with Exodus, Battle Cry, QB VII, Topaz, and other beloved classics of twentieth-century fiction comes a sweeping and powerful epic adventure that captures the "terrible beauty" of Ireland during its long and bloody struggle for freedom. It is the electrifying story of an idealistic young Catholic rebel and the valiant and beautiful Protestant girl who defied her heritage to join his cause. It is a tale of love and danger, of triumph at an unthinkable cost—a magnificent portrait of a people divided by class, faith, and prejudice—an unforgettable saga of the fires that devastated a majestic land... and the unquenchable flames that burn in the human heart.
About the Author
---
Internationally acclaimed novelist Leon Uris ran away from home at age seventeen, a month after the attack on Pearl Harbor, to join the Marine Corps, and he served at Guadalcanal and Tarawa. His first novel, Battle Cry, was based on his own experiences in the Marines, which he revisited in his final novel, O'Hara's Choice. His other novels include the bestsellers Redemption, Trinity, Exodus, QB VII, and Topaz, among others. Leon Uris passed away in June 2003.
Praise For…
---
"Leon Uris uses history as the raw material for legend in his powerful novel Trinity, a tale packed with romance and adventure." — Philadelphia Sunday Bulletin
"The story has a kind of relentless power, based on the real tragedy of Ireland, and Uris's achievement is that he has neither cheapened nor trivialized that tragedy." — New York Times Book Review
"Leon Uris has produced another blockbuster of a novel, one of his documentary sagas on the order of Exodus and Topaz, stocked with characters of epic proportions." — Christian Science Monitor
"An honest Irish story, emotional, full of...tales of Irish heroes and fools, of God, fear and superstition, of love and hatred, poverty and greed." — San Diego Union-Tribune
"Unquestionably a very powerful novel...(It) will evoke passionate feelings and reminders of present-day happenings. It is undoubtedly a book deserving of great praise." — Dublin Sunday Independent